Female authors lead Desmond Elliott Prize longlist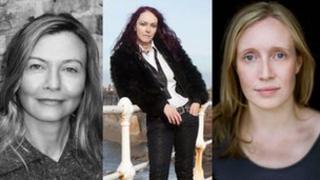 The longlist for the sixth Desmond Elliott Prize, which honours the best in debut fiction, has been unveiled, with seven of the 10 novels by women.
The nominees include Beatrice Hitchman, Anna Raverat, Sarah Ridgard, Goth singer Rosie Garland and poets Ros Barber and Jenni Fagan.
Judging panel chair Joanne Harris said it was an "exciting time" for female writers as well as debut fiction.
The winner of the £10,000 prize will be revealed at a ceremony on 27 June.
The longlist also includes three journalists - Kevin Maher, Kevin Smith and Wendy Wallace - and former junior chess champion Gavin Extence.
The shortlist will be revealed on 23 May.
Harris, the best-selling author of Chocolat, said being up for the prize was "a landmark moment in an author's career".
The award is named after acclaimed publisher and literary agent Desmond Elliott, who died in 2003.
Last year's prize was won by Grace McCleen for The Land of Decoration, based on her own experiences growing up in a Christian sect.
Other past winners include Anjali Joseph, who won with Saraswati Park in 2011.
Joseph went on to receive the Betty Trask Prize the same year and was named by the Daily Telegraph as one of their top 20 authors under 40.
The year before that, the winning title - The Girl with Glass Feet by Ali Shaw - was also shortlisted for the Costa First Book Award.