Attenborough to launch Tweet Of The Day on Radio 4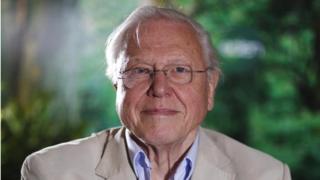 Birdsong is to be broadcast on BBC Radio 4 as part of a new series titled Tweet of the Day, which will air before the Today programme for the next year.
From 6 May, early risers will hear a different call or song from British bird species, followed by a story and facts about the tweet in question.
Sir David Attenborough will present every 90-second episode during May.
Other wildlife presenters including Miranda Krestovnikoff, Steve Backshall and Chris Packham will then take over.
Each episode will feature the song of a particular bird followed by insights into that bird's behaviour and habits. The series will also tell the birds' stories through science, social history, culture, literature and music, the station said.
Sir David Attenborough said: "I've seen some of the most incredible animals on my travels around the world, but Tweet Of The Day is a nice reminder of the teeming world of birds on my doorstep."
There are 596 species on the official bird list in Britain and producers at the BBC Natural History Unit have trawled through more than 1,000 bird recordings in the BBC sound archive.
But the station must make new recordings of species like the nightingale, the greenfinch and the garden warbler because of gaps in its archive. There will be 265 instalments of Tweet of the Day.
Radio 4 controller Gwyneth Williams said: "I'm thrilled to have birds flying into the early morning schedule on Radio 4. David Attenborough, of course, will rule the roost."
The series will be broadcast every weekday morning at 05.58 with a special tweet repeated on Sundays at 08.58. Every episode of Tweet Of The Day will be available to download.