Books given away on World Book Night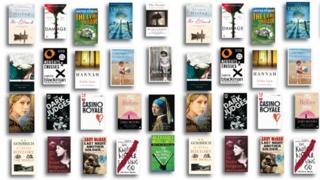 More than 20,000 volunteers have handed out hundreds of thousands of free books as part of the third World Book Night.
Ian Fleming's James Bond novel Casino Royale and Jojo Moyes' best-seller Me Before You were among the 20 titles being given away.
The event aims to promote literacy in the "spirit of generosity, passion and mass participation".
Each volunteer was due to give out 20 copies of their favourite book to people who do not normally read.
Rose Tremain, whose The Road Home was part of the mass giveaway, described it as a "kind of benign Ponzi scheme for the mighty word".
And Tracy Chevalier, whose historical novel Girl with a Pearl Earring was part of the giveaway, signed up as a volunteer. She was due to hand out Tremain's Orange Prize-winning novel as her book of choice.
Writer and comedian Hardeep Singh Kohli hosted an evening of readings by authors, poets and performers in one of four flagship events across the UK.
His event at London's Southbank on Tuesday was due to feature Irish playwright Sebastian Barry, actor Charles Dance and One Day writer David Nicholls.
Hundreds of libraries, village halls and local book clubs also celebrated World Book Night across the UK. Some 100,000 of the 500,000 books were due to be distributed in hospitals, shelters, care homes, community centres and prisons.