Gareth Malone begins search for young 'contemporary choir'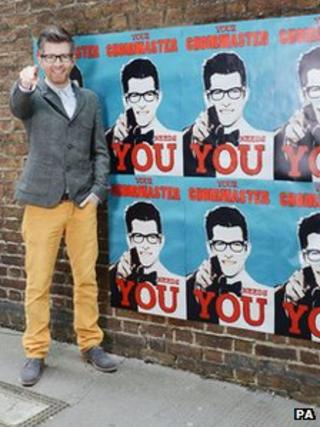 TV choirmaster Gareth Malone has launched a national talent search to create an "inspiring" choir showcasing young talent.
Following the chart-topping commercial success of the Military Wives Choir, Malone's new venture targets gifted UK singers aged between 18 and 25.
Malone said he wanted to "create a ground-breaking choir".
The multi-award winning musician was made an OBE for services to music in 2012.
He found national fame with the double-Bafta winning BBC Two series The Choir in 2007.
In 2011, Malone's latest choir - formed of the wives and girlfriends of British servicemen beat X Factor winners Little Mix to the Christmas number one with the single Wherever You Are.
The Military Wives Choir went on to win a Classical Brit Award in 2012.
'New choral style'
Malone's new talent campaign aims to create an innovative new singing troupe inspired by a range of contemporary music and modern arrangements. The singers are expected to perform interpretations of hits by acts such as Radiohead, Fleet Foxes, Lana Del Rey and Fleetwood Mac.
He said the project would "initiate a new choral style that is fresh, modern and utterly unique".
Malone will collaborate with esteemed producer David Kosten - who has worked previously with acts such as Bat for Lashes, Everything Everything and Paul Oakenfold.
Malone added: "Our aim will be to inspire a whole generation."
Previously, Malone collaborated with Andrew Lloyd Webber and Gary Barlow, who composed and featured on The Military Wives single.
A cappella arrangements and choral singing has seen a surge of mainstream popularity in recent years, illustrated by the commercial success of The Choir and American musical comedy-drama Glee.
The winning singers will land a lucrative recording contract with an album release due later this year. The group is also expected to embark upon a worldwide tour.
Auditions for the group will commence next week.