Review Show loses 80% of its audience on BBC Four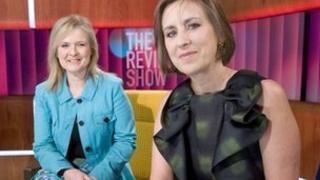 BBC arts programme The Review Show has lost about 80% of its audience in its first airing since controversially moving from BBC Two to BBC Four.
Sunday's show attracted just 76,000 viewers according to overnight figures.
The more accurate consolidated figures showed that the last BBC Two series drew an average of 376,000 viewers.
The Review Show - which was a weekly late night half-hour programme aired on BBC Two - is now an hour-long monthly show in a primetime slot on BBC Four.
The programme has kept the BBC Two presenters, Kirsty Wark and Martha Kearney, and now airs between 2000 and 2100 BST.
When the move was announced in February, it prompted criticism from some industry figures.
"Who's going to start a petition to save the BBC's Review Show? I want to sign it!," tweeted Channel 4 News culture editor Matthew Cain.
TV reviewer Boyd Hilton responded to the news in his tweet: "A MONTHLY Review Show?! Yes in the internet age what we really need is to reduce the frequency of a topical show."
But the move was defended by BBC Four controller Richard Klein, who said: "The range of topics will be, I think, broader, but also we'll do what the Review Show does on BBC Two but in a number of different ways hopefully to expand audiences."
The programme features regular guests including novelist Ian Rankin, author Lionel Shriver and journalist Paul Morley, who pick over recent cultural highlights.
Sunday's show included discussions of Steve Coogan film The Look of Love and Julian Barnes's latest novel/memoir, Levels of Life.
Arts coverage across the BBC is being cut as a result of the £700m cost-cutting measures dubbed Delivering Quality First (DQF).
BBC Four is refocusing on arts and culture as part of wide-ranging money-saving measures that will see the channel reduce original drama programming.
A BBC spokesperson said: "The Review Show on Sunday night is just one of several new programmes introduced on BBC Four as part of the channel's renewed commitment to topical arts coverage.
"Others have included A Night at the Rijksmuseum (528k), Bolsover Castle with Lucy Worsley: Secret Knowledge (779k) and What Do Artists Do All Day? - Norman Ackroyd (401k).
"It can take time for a programme to bed in to a new slot on a new channel, as audiences need to become familiar with the changes."