ITV rapped over 'promotional' Kensit appearance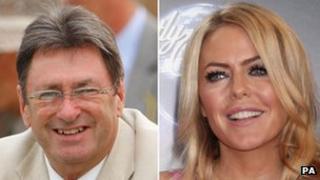 Communications watchdog Ofcom has summoned ITV to a meeting after it ruled an episode of Alan Titchmarsh's chat show breached regulations.
The report found an interview with actress Patsy Kensit included several mentions of diet firm Weight Watchers, which she is paid to endorse.
A viewer complained after watching the five-minute interview, of which more than half was about Kensit's weight.
Ofcom has asked ITV to a meeting "to discuss its compliance in this area".
ITV said the actress's remarks were "brief and not unduly prominent", but Ofcom said Titchmarsh did not challenge her claims or make mention that Kensit is a "weight loss ambassador" for the diet company.
The media watchdog added that references to the weight loss firm were "promotional and unduly prominent".
Swearing complaints
Speaking about the company, Kensit said that during filming of the soap Emmerdale, it was the only thing that "worked" for her when managing her weight.
"I could eat whatever I wanted and wake up - you know everything," she said. "I was like - cause I love food. This way, it's a healthy way. I've got two gorgeous sons and I cook a lot and we have an evening meal together and I'm not there drinking some goop."
The 45 year-old mother of two went on to mention the firm's ProPoints scheme twice.
ITV came under fire from Ofcom two months ago after Dannii Minogue promoted a brand of milk, with which she has a commercial arrangement, on morning show Lorraine.
Meanwhile, the watchdog has launched an investigation into BBC One's coverage of the annual Boat Race between Oxford and Cambridge universities.
Viewers heard the Oxford cox Oskar Zorilla repeatedly swear as he urged his team on to victory on Sunday, 31 March.
There were more than 200 complaints to the BBC after an expletive was heard up to five times.
During the broadcast, commentators immediately apologised for the language for two of the instances, but left his microphone on.
Producers had also warned the coxes of both boats that their language would be picked up by the onboard microphones, which have been in place since 2006.
The bad language was taken off the broadcast, which was watched by an average live audience of 6.6 million viewers, before it was made available on the BBC iPlayer.
Ofcom is also investigating Rowan Atkinson's Comic Relief sketch, in which he appeared as a fictional version of the Archbishop of Canterbury.
There were more than 2,200 complaints following the skit, in which he compared boy band One Direction to Jesus's disciples and said praying "doesn't work".
The BBC later apologised and removed it from its catch-up service.