Dick Van Dyke cancels New York appearance over illness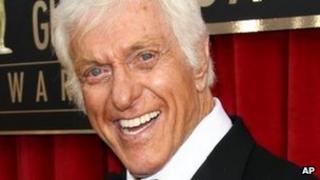 Dick Van Dyke, best known for his roles in hit films Mary Poppins and Chitty Chitty Bang Bang, is suffering from an undiagnosed neurological disorder.
The 87-year-old actor was forced to pull out of an awards ceremony in New York next week after doctors advised him against air travel.
"My head bangs every time I lay down," Van Dyke wrote on Twitter on Wednesday.
"I've had every test come back that I'm perfectly healthy. Anybody got any ideas?"
The Diagnosis Murder star had been expected to receive the inaugural Lifetime Achievement Award for Bettering Humanity Through Comedy from New York cultural centre 92nd Street Y next week.
However, on Thursday he told Entertainment Tonight that he would not be able to make it due to "fatigue and lack of sleep resulting from symptoms of a yet-to-be diagnosed neurological disorder".
A statement from award organisers confirmed that "due to a medical condition, Mr Van Dyke is unable to travel to New York for the programme".
"Dick is otherwise in good physical condition but the fatigue factor has become acute," a spokesman for the actor told USA Today.
Van Dyke tweeted that he had had MRI and CT scans and a spinal tap in search of a cause for his symptoms, which he said had been going on for seven years.
"This is a guy that never gets sick... he doesn't smoke, drink or pop pills," Bob Palmer, Van Dyke's publicist, told NBC News.
"It's very frustrating that doctors cannot find out what is going on."
The 1960s Dick Van Dyke Show, which was revived in the 70s and the 80s, secured Van Dyke's place among America's best-loved television personalities.
But it was his dubious Cockney accent in Mary Poppins that for ever sealed him in the minds of British fans.
The veteran actor's last big screen outing was in Night At The Museum (2006), though he has continued to make occasional television appearances.