New Star Wars film yearly from 2015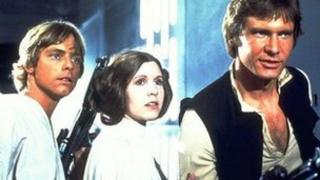 Disney has said a new Star Wars film will appear yearly from 2015, alternating between new episodes in the space saga and spinoff character films.
The announcement, made at CinemaCon in Las Vegas, was reported by Comingsoon.
Star Trek director JJ Abrams will begin the new cycle of movies with Episode VII, from a script by Little Miss Sunshine writer Michael Arndt.
Star Wars creator George Lucas sold his film production company Lucasfilm to Disney last year for $4.05bn (£2.5bn).
The latest announcement was made by Walt Disney Co chairman Alan Horn, at the annual movie theatre convention CinemaCon in Las Vegas.
In February, Disney announced that alongside a new trilogy, a series of films built around existing characters from the Star Wars universe were in development.
It is rumoured the first stand-alone film could focus on the diminutive Jedi master Yoda.
The spinoff films will be written by Lawrence Kasdan and Simon Kinberg.
Kasdan worked on the scripts of The Empire Strikes Back and Return of the Jedi - the second and third instalments of the first Star Wars trilogy while Kinberg is best known for his work on X-Men: The Last Stand and Guy Ritchie's hit reboot of Sherlock Holmes, starring Robert Downey Jr.
'Bad feeling'
Fan reaction to Disney's announcement on social networks and film websites have been mixed. "Ridiculous", tweeted The Mail Man, "I've got a bad feeling about this," remarked Kurt Brookes, using one of the film's famous lines.
"New Star Wars every year? My kids are overjoyed," said Bryan Hitch.
Writing for Forbes magazine, Carol Pinchefsky, said: "The Twitterati are already concerned that there will be a Star Wars overload, that the movies will be "force marched" out as fast as Disney can make them.
"After all, Disney isn't typically known for pumping out entries in a franchise this rapidly (Pirates of the Caribbean notwithstanding)."
The original Star Wars film, released in the UK in 1977, starred Mark Hamill, Carrie Fisher and Harrison Ford as they took on the evil Empire "in a galaxy, far, far away".
In a recent interview George Lucas hinted at a cast reunion, revealing the trio were "in final stages of negotiation".