Lindenstrasse: Germany's answer to Coronation Street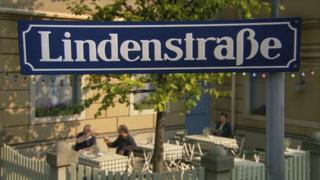 Almost 30 years ago the Coronation Street format was uprooted from Manchester and relocated to Munich. John Jungclaussen, London correspondent for Die Zeit magazine, travelled to meet the cast of Germany's Corrie clone to find out how the show compares with the original.
Lindenstrasse is one of Germany's most popular soaps.
It has millions of viewers, is critically acclaimed as a home for serious drama with a political edge, and is produced by one of the country's most radical and best-known directors.
But without the inspiration of Weatherfield's cobbled streets and running dramas, it may never even have existed.
Fascinated about how this little piece of British television was exported to my native Germany, I travelled to meet the cast and crew and discover whether a soap fan in the UK might recognise its European cousin.
I wanted to find out what kind of plots and storylines the soap has featured and whether iconic figures such as Annie Walker, Hilda Ogden or even Ena Sharples ever found a new home in Munich.
Lindenstrasse, which literally means Lime Street, was created by the eccentric Hans Geissendorfer - a renowned director and the man behind some of Germany's most successful feature films.
He first became hooked on Coronation Street while visiting his British girlfriend in London and returned to Germany in the belief that audiences were missing something big.
In 1982 he pitched his vision for a new German soap opera to a commissioning editor at WDR, Germany's leading public TV broadcaster.
The show first aired three years later.
Talking with several members of the production team I began to get a feel for the way the show tackles politics.
Things are very different to the way things work on UK soaps.
Rather than shying away from mentioning elections or major news stories, the characters in Lindenstrasse embrace current affairs and the discussion simply becomes part of the everyday script.
Since December 1985 the show has aired on the ARD network in Germany, a public service broadcaster akin to the BBC.
This public service remit allows the writers to generate unflinching creative depth in a way that would not be possible on an overtly commercial network.
I met Philip Neubauer, who plays the hen-pecked Philipp Sperling.
He described how his character often finds himself at the centre of some very dark storylines - often the victim of domestic violence at the hands of his on-screen wife.
Lindenstrasse, of course, has its fair share of characters being killed off in big, dramatic storylines.
And in the character of Helga Beimer, a matriarch and gossip, I believe I discovered Lindenstrasse's Annie Walker.
Hans, who is still a producer on the show, has been keen to keep for Lindenstrasse some of the pace and style that was prevalent when he became enamoured with Coronation Street 30 years ago.
It is easy to forget it now but in the 1960s Coronation Street, as well as being a soap, was a radical form of social comment.
So what would a hardened soap professional in the UK make of this European export?
I took two subtitled episodes on DVD to the offices of Inside Soap magazine.
Would Lindenstrasse work on them?
I was pleasantly surprised. Comments included "good characterisation" and "clever scripting".
Inside Soap's editor Stephen Murphy was particularly taken with the throwback to the old kitchen sink drama - the realism - of Coronation Street in years gone by.
It is a show he could get into quite quickly, he says, and was a refreshing change from the fast pace and "bish, bash, bosh" of the UK's current crop of soaps.
It seems 1980s Coronation Street is alive and well in Munich.
Listen to Coronation Strasse on BBC Radio 4 at 10:30 BST on Saturday 20 April and afterwards on the BBC iPlayer.