Iron Man 3 leads Hollywood's Chinese charge
By Ellie Davis
BBC News entertainment reporter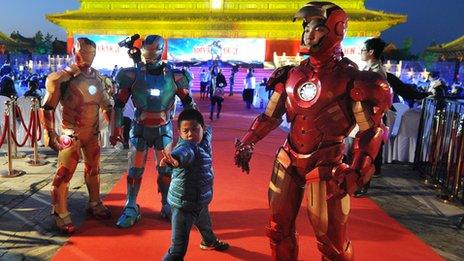 Iron Man 3 arrives in cinemas this week. But can Marvel win the ultimate battle - to break China's growing movie market with a special Chinese version of the film?
When Marvel launched the international promotional campaign for Iron Man 3 earlier this month, it did not choose Hollywood or London's Leicester Square, but Beijing's Forbidden City.
It was the first time a Hollywood film had ever been celebrated inside the Chinese capital's Imperial Palace.
Leading man Robert Downey Jr even did his part to charm the Chinese press by calling out to fans in the local Chinese dialect.
"I'm interested in all things Chinese and I live a very Chinese life in America," he told the press conference.
It was all part of Hollywood's attempt to woo Chinese audiences and authorities.
And little wonder. China recently overtook Japan as the world's second-biggest cinema market, as box office revenues surged 30% to $2.7bn (£1.8bn).
Since James Cameron's Avatar took $222m (£145m) in China in 2010, Hollywood has been desperate to crack the Chinese market.
Marvel has found a way through some of the red tape by co-producing Iron Man 3 in China with DMG Entertainment, a Beijing-based production company.
"The concept of what people want to see and what the government doesn't want to be seen isn't understood very well," says DMG's chief executive officer Dan Mintz.
Chinese authorities allow 34 foreign films to be screened in the country each year and often request changes to remove sexually explicit scenes, violence and other topics deemed inappropriate for the home audience.
"Everyone is trying to figure out the loopholes," says Mintz. "The pressure is immense to crack this market and to understand it."
Marvel has even created a special Chinese version of the action film with an extra scene featuring a new character and storyline.
The additional eight-minute scene stars Chinese actress and singer Fan Bingbing and A-lister Wang Xueqi.
"It takes a fundamental character from our movie who isn't in it as much and extrapolates out his story," says British co-writer Drew Pearce.
"People didn't grow up with Marvel in China," says Mintz, who set up his advertising and production company 20 years ago. "Awareness needed to be built."
Mintz says China has "crept up" on Hollywood, explaining: "Five years ago, it didn't matter if you took it seriously, but that was the time they should have been figuring out their strategy."
Iron Man 3 is far from the only film to take aim at the Chinese market. The next Transformers movie is to be partly made in the country, and James Cameron announced a joint venture with two Chinese firms last year.
Iron Man 3's main cast members did not film in China. But Don Cheadle, who plays US Air Force colonel James Rhodes, says he is keen to be a success in Asia.
"If I become a big Chinese star, you can guarantee I'll be shooting a movie in China," he says.
Cheadle stars alongside Iron Man 3's enigmatic new villain, played by the Oscar-winning British actor Sir Ben Kingsley.
Sir Ben's character, The Mandarin, first appeared in Marvel comics in 1964 during the height of the Vietnam War.
But Sir Ben's Mandarin is a "contemporary" villain for "present-day audiences", says executive producer Stephen Broussard.
Now the head of terrorist group The Ten Rings, The Mandarin is a stereotyped terrorist who broadcasts threatening video messages across the world.
"I think his ethnicity is chosen to illustrate the man and the mask, rather than making a political statement," says Sir Ben.
Iron Man 3, which opens in UK cinemas on 25 April, is set to storm box offices in many countries in its first weekend of release.
The efforts from Marvel and DMG have paid off as they recently secured a release date in China - 3 May, the same day the film comes out in the US.
Mintz is convinced that the Chinese market will continue to grow and says it may one day challenge Hollywood for supremacy in the global movie market.
"There's always been a number two, but this is the first time anyone is challenging for number one," he says.
Related Internet Links
The BBC is not responsible for the content of external sites.