Krister Henriksson on the 'risky' challenge of Doktor Glas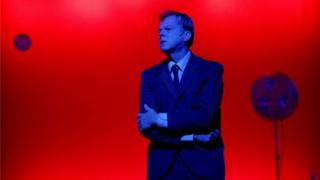 Swedish-language play hits West End
Krister Henriksson is best known on TV as Wallander. As he makes his West End debut in Doktor Glas, he ponders how a play in Swedish will fare in London - and explains why he's happy to say goodbye to Henning Mankell's famous detective.
"Maybe this is silly to do but at least it's brave," says Krister Henriksson, settling on to a sofa in his dressing-room at Wyndham's Theatre.
"I've had a long career as an actor in Sweden and this is the right point for me to do something very risky and challenging.""
On the face of it, Doktor Glas - a one-man show in Swedish (with English surtitles) - does seem a risky piece of programming for a West End packed with musicals and plays with A-list British casts.
Doktor Glas is adapted from the 1905 novel by Hjalmar Soderberg. The book is on the school curriculum in Sweden, but not widely known in the UK. It tells the story of a 19th century physician who falls madly in love with a patient - the unhappily married wife of a clergyman.
The book made an impact on Henriksson when he studied it as a teenager. "It's a crime story but at the same time it asks philosophical and existential questions."
It was while he was filming the first Wallander series in 2005 that he returned to Doktor Glas with the idea of staging the play himself.
"In Sweden we have something we call 'hotel death'," he explains. "If you live too long at a hotel you will die! I was growing fatter and going to the bar –- so I thought I must rescue myself and find something meaningful to do in my free time.
"Then I remembered seeing the play Doktor Glas many years ago starring my idol [Allan Edwall]. I'd gone backstage to say hello and he said to me 'Krister, some day I think you will do this part.'
"So 25 years later I remembered that meeting and I sat in the evening and read Doktor Glas. During one year, I read it 70 times and finally I knew it by heart.
"The rest," he admits, "is a fairytale."
Henriksson performed the play in Stockholm where it became a sell-out success. He has been playing Doktor Glas on and off over six years across Scandinavia between other TV and theatre work.
"As an actor, I'm rather restless," he says. "After 40 performances I start to feel fed up, but never with this play."
Now British producer Martin Witts has brought Doktor Glas to London in the hope that it will tap into the British passion for Scandinavian culture.
The success of Stieg Larsson's Millennium Trilogy - beginning with The Girl with the Dragon Tattoo - opened the door to other "Scandi crime" hits such as Danish TV series The Killing and Norwegian film Headhunters, based on the novel by Jo Nesbo.
The Swedish TV series Wallander, adapted from Henning Mankell's books about the world-weary detective, spawned a British remake starring Sir Kenneth Branagh.
Henriksson was initially keen to perform Doktor Glas in London in English and took lessons to improve his accent. But he realised the play worked best in his native tongue.
"You become deaf to the beauty of your own language because you speak it all the time. It's like Shakespeare - you can translate it but you lose the poetry."
What type of audience does he think Doktor Glas will draw in London? "I hope that a British audience will come. Not the Swedish tourists in London - they can see me in Stockholm!"
Having shot a third and final series of Wallander, Henriksson seems happy to leave the character behind him.
"When they first asked me to do this part I said 'no, no, no' and then I noticed every time I said 'no' the salary went up," he laughs.
The actor went on saying no until Mankell called him personally and they met in Stockholm. "I'd not even read the books, so Henning sent them to me and I read them in a weekend. I thought it was the ideal part for me, so I said yes.
"I did the first series, I couldn't say I was quite satisfied. There were many ups and downs. They asked me to do another 13 episodes and I did them on the condition I was much more involved in the script. After that they wanted me to do another 13 - and I said I wanted to do something else in my life."
In the end he agreed with Mankell to make a final six stories, which began shooting last year.
With a laugh, Henriksson admits he now regrets not making a couple more episodes - in order to beat the record of a famous fictional British detective.
"We did 32 Wallanders and then I googled Inspector Morse and they did 33! If we could have done two more we would have won!"
He adds: "Wallander has been a fantastic thing to do. But I'm not young any longer and it's a tough schedule and it takes me away from my family.
"I'm so glad I did it. I wouldn't have been invited to London if I hadn't done the Wallander series. I'm convinced of that."
Doktor Glas is performed in its original Swedish with English surtitles at Wyndham's Theatre, London, until 11 May 2013.