Vending machines sell art for £1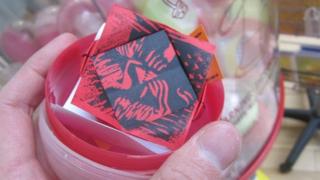 Thousands of miniature artworks are being sold from vending machines in Leeds for £1 each in an attempt to make art more accessible.
The new £350m city centre Trinity shopping centre is to house three such machines. Three more have already been installed elsewhere in shops and bars.
Thirty artists have been commissioned to create 150 works each.
"We've always wanted to get art to as wide a public as possible," said John Slemensek of art collective Woolgather.
The artworks on offer include still life lemons on tiles the size of Scrabble pieces, the "world's smallest action painting" and a contract for an artist to make the purchaser a personalised "ident" in the style of a company logo.
Leeds, where Damien Hirst went to art school, has a thriving grassroots visual art scene.
The vending machines are being installed by Woolgather, founded by a group of artists, which has been behind a number of inventive initiatives in the city such as a new art award which saw nominees exhibited in an empty high street shop and the winner chosen by a public vote.
"For £1, you're able to buy very rare pieces," Slemensek said. "It really shaves off those ideas of 'out of reach artwork' or 'I could never own a piece of artwork'.
"Hopefully if someone gets, say, a Sean Williams painting of a lemon, they might look further into him and then suddenly they've got a gateway into the art world that they never knew they would be allowed.
"These capsules are almost keys for people to dip their toes into the water and see if they like it.
"Every pound that goes into the machines goes back into the commissioning of the next artist so it will hopefully have an ongoing longevity."
The machines include an old postage stamp dispenser and devices containing large plastic balls that would normally hold novelty toys.
"We were in conversations to try to secure some condom machines a few weeks ago," Slemensek added. "Unfortunately that didn't work out."
The use of vending machines to sell art is not new. In the 1960s, the avant-garde Fluxus movement used vending machines and Yoko Ono designed a vending machine to dispense cards representing pieces of sky.