Iron Man 3 premiere 'delayed over Margaret Thatcher funeral'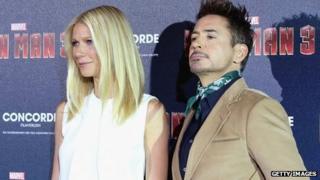 The UK premiere of Iron Man 3 has been pushed back due to Baroness Thatcher's funeral, according to reports.
A Disney spokesperson told Deadline the London gala, originally scheduled for Wednesday, would be moved to Thursday to avoid the clash.
"London will basically be in traffic chaos and it would have been difficult logistically," the spokesperson said.
Cast members including Robert Downey Jr and Gwyneth Paltrow are still expected to appear at the premiere on Thursday.
More than 2,000 guests have been invited to attend the funeral ceremony for the former prime minister, who died on Monday. It will begin with a procession from Westminster to St Paul's Cathedral.
Many roads in central London will be closed and large crowds are expected to line the procession route.
Iron Man 3, which also stars Rebecca Hall, Don Cheadle and Sir Ben Kingsley as villain, The Mandarin, will be released in UK cinemas on 25 April.