Picasso's £50m Child With A Dove set to leave UK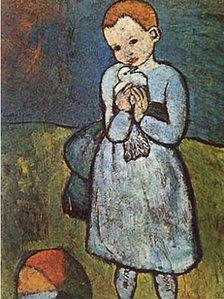 A Pablo Picasso painting that has been in Britain since 1924 looks destined for Qatar after attempts to buy it back from a private collector failed.
Child With A Dove was sold last year for a reported £50m but the government placed an export bar on the work in the hope a British buyer could be found.
The ban expired in December, with no institution able to raise the funds.
Lord Inglewood, chairman of the Arts Council-managed Reviewing Committee, called the loss "a great shame".
He said: "Child With A Dove is an iconic Picasso painting, and has a long history in British collections. It is one of Picasso's key early works, and marks a transitional moment in his career, the move into his much celebrated Blue Period.
"It is a great shame that institutions could not raise the funds necessary to keep this beautiful piece of art in this country. But this is exactly why export bars are so very important in protecting the nation's cultural heritage."
Lord Inglewood added: "In the case of the Picasso, clearly money was the problem, and while steps are being taken to increase philanthropy in the country, this suggests they may not be enough."
According to French newspaper Le Figaro, Child With A Dove had been bought by a collector in Qatar. The Arab state is a serious player in the art world and is already rumoured to have paid £162m for Cezanne's The Card Players and £47m for Rothko's White Center (Yellow, Pink and Lavender on Rose).
"Qatar has made a huge commitment to making itself the hub of the art market in the Middle East. They are building incredible museums and an incredible art collection."
Child With A Dove was sold by auctioneers Christies on behalf of the Aberconway family in Wales, who were bequeathed the painting in 1947 following the death of Samuel Courtauld. It first came to Britain in 1924 when it was bought by Mrs R A Workman.
One of the earliest and most important works by Picasso to enter a British collection, it marks a transition into the artist's celebrated Blue Period, when he moved away from a broadly Impressionistic style to a more sparing aesthetic, creating sombre works painted almost solely in shades of blue and blue-green.
In the 1970s the painting was loaned to the National Gallery in London and last year it went on display in the Courtauld Gallery's exhibition Becoming Picasso: Paris 1901.
The exhibition ends on 27 May and the painting is expected to be returned to to Christie's before being shipped out of the country.