Hull Truck theatre founder returns in troubled times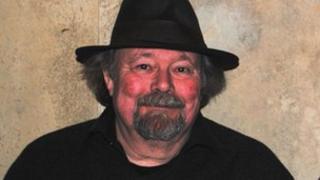 Formed in a squat in the 1970s, theatre company Hull Truck went on to earn national acclaim. It is now in a £15m purpose-built theatre - but in recent years has been in crisis. Founder Mike Bradwell talks about returning after three decades.
Hull in 1971 was, Mike Bradwell says, "the least likely place in the world to start an experimental theatre company".
So he started one.
"We lived in what essentially was a squat and our office was the telephone box outside," Bradwell recalls. "I suppose you could describe us, if you wanted to be uncharitable, as a bunch of hippies.
"I wanted to make theatre about the kind of people we were and the kind of people we knew. There were not many plays being made that reflected the problems, tribulations and politics of our generation. So we created plays."
And the name? "Hull Truck came from Hull and travelled about in a truck." Oh. "We started out by basically stealing a van and we found the props in skips."
The company's early existence was capricious and precarious. Their breakthrough came in 1974 when they took a play to the Bush Theatre in London - and, returning to the Bush with every new play for the next decade, Hull Truck became a national force.
Bradwell left in 1982 and Hull Truck flourished under his successor John Godber, whose plays like Bouncers and Up 'n' Under earned the company Olivier Awards, Los Angeles Critics' Circle Awards and commercial success.
After 26 years at the helm, Godber left in 2010, a year after the company moved into its shiny £15m home, just a mile from the original squat.
But the company began to struggle, burdened by increased costs from the new building and declining income. It was lambasted for abolishing the post of artistic director and received £1m in emergency Arts Council England funding last year to keep it afloat.
A new artistic director has just been appointed (in Mark Babych), the chief executive has left and new managers are attempting to reverse the decline.
"Hull's a very big ship and it's been, if you like, sailing through some very stormy waters," Bradwell says. "It will take a certain time to turn it around.
"The idea of having an artistic director at the helm of a theatre is exactly how it should be, as opposed to an executive producer."
Against this backdrop, Bradwell is returning to direct the comedy Queen of the Nile, his first main house play for the company for 30 years.
Bradwell, who was artistic director of the Bush Theatre from 1996-2007, believes a new generation with the same drive and ethos as his original troupe is now emerging to shake up the status quo.
"I think the political climate and economic climate are such that, rather than waiting for somebody to give you a job, groups of young actors, writers and directors, rather like we did in 1971, are getting together and making their own theatre, and getting in the back of vans and doing it," he says.
He points to the Hull-based Middle Child, whose manifesto says society is in a "precarious situation" and declares the desire to "make work that speaks to our generation about important issues".
Bradwell also says the most recent crop of graduates at the drama school where he teaches have gone on to form six new companies.
"They are little companies with the same spirit as I started out with, going out and making theatre because nobody's going to employ them to do it," he says.
At a time when many regional theatres are warning of dire consequences of government and council funding cuts, could the hard times actually stimulate a new burst of creativity?
"You can sort of either make good theatre on no money or lots of money," Bradwell replies.
"There will always be people for whom theatre is not a job, it's a way of life. And it won't make any difference whether they're at the Royal National Theatre with a grant of £25bn a year [sic] or they are in Hull in a squat."
He is, though, quick to add that non-commercial theatres do need a subsidy to survive. "You are not going to get experimental and provocative work unless you have some sort of support to make it happen."
Bradwell's new play Queen of the Nile is funny and bawdy more than experimental and provocative. In the play, we follow Debbie, a forty-something Yorkshire woman who yearns for a new life and discovers sex tourism in Luxor, Egypt.
It also stars Dudley Sutton (Tinker from TV classic Lovejoy) as a camp restaurant owner and, beneath the surface, floats issues like tourist exploitation, inter-cultural relationships and the Arab Spring.
Bradwell went to see Luxor for himself just after Christmas. "What I discovered was that virtually everybody there was from the north of England, and an awful lot of people from Yorkshire," he says.
"It's almost like people used to go to Blackpool then Torremolinos - now they go to Luxor. It's Blackpool with archaeology."
The play, a sauced-up Shirley Valentine, was written by Luxor regular Tim Fountain. He is best known for Sex Addict, a show in which he would ask the audience to choose a man for him to sleep with from an internet sex site every night.
Fountain recalls the inspiration for Queen of the Nile - an Englishwoman in Luxor in her 60s or 70s who told him: "I love it here because the beer's cheap, the men are cheap and they've got Emmerdale on satellite."
Fountain says: "It made me laugh so much that I though, oh my God, there really is a play in this."
Queen of the Nile opens at Hull Truck on Thursday 18 April.