Should Bafta catch up with TV audiences?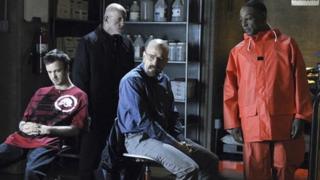 Today's Bafta nominations have, as expected, done a solid job of reflecting some of the most talked about and significant TV broadcast in 2012, from ITV's documentary The Other Side of Jimmy Savile to Danny Boyle's Olympic opening ceremony.
As always there are inclusions or omissions that will surprise a few. For example, there is nothing for Downton Abbey - a huge hit in the UK and abroad. But the programme was at least eligible.
Bafta voters simply preferred other dramas. However, it's a different story for at least one notable show that's slipped through Bafta's net. This year's international category features four strong nominees - The Bridge, Game of Thrones, Girls and Homeland.
But for many from outside the UK, the outstanding series of not just last year, but the last few years, has been the drama Breaking Bad.
The show, which is now in its fifth season, follows an American High School teacher who becomes a drug kingpin.
It has gained a passionate audience here but has been unable to feature in the Bafta nominations since 2010 because despite many people considering it to be great TV, here in the UK it is not actually on TV.
"It's a real shame," says culture writer at The Daily Telegraph Patrick Smith. "Awards in the UK should be about quality and nothing else. [And] Breaking Bad, for me, is one of the best dramas currently in production."
The series can be legally watched by UK audiences. It is sold on DVD, is available through iTunes and can be streamed through Netflix. But the current rules of Bafta are very clear. To be eligible a programme must have had a "transmission" on "terrestrial, cable, satellite or digital channels".
Change needed
It is an issue Bafta says it is keeping a close eye on. A representative commented: "To ensure our awards are as current and reflective of the industry as possible, Bafta reviews eligibility criteria and categories following each ceremony,"
And with audiences in growing numbers consuming TV content that is not traditionally transmitted, few will be surprised to see a slight tweak in time for next year's nominations.
And not just for Bafta. The Royal Television Society awards currently hold the same position on eligibility.
For many the series that best encapsulates why a change is needed is House of Cards.
The US remake features a double Oscar-winning star in Kevin Spacey, and has episodes from Oscar-nominated director David Fincher. It has been a hit with audiences and critics.
It was funded by Netflix and was exclusively made available on the streaming service earlier this year in territories including the UK and US.
Thanks to a change in rules made in the last few years by the Emmys in the United States, it is expected to feature strongly at America's biggest TV awards ceremony, where it is eligible to be nominated alongside shows broadcast by network and cable TV.
The fourth series of the revived comedy Arrested Development will similarly only be streamed through Netflix, but is already being tipped by awards watchers.
"The Emmys have always been ahead of the curve, extolling creative shows from both sides of the Atlantic," says Smith. "The best thing [for UK awards organisations] would be trying to move in that direction."
And it's not just US imports that highlight the current anomaly. The BBC will soon start producing content not to be shown on any of its TV channels, only on the iPlayer.
So as audiences are changing their TV viewing habits, a matching change by awards shows in the near future seems both likely and necessary.
Every time nominations are announced for any major ceremony, a quick check of Twitter reveals fans bemoaning the fact that something has not merited a nomination.
Imagine how that anger might justifiably grow, if their favourite shows are not even eligible.