Roger Ebert: Tributes paid to celebrated film critic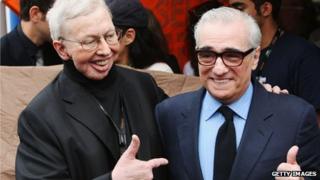 Hollywood actors and directors have paid tribute to US film critic Roger Ebert who has died aged 70 after a long battle with cancer.
Director Martin Scorsese, who is producing a documentary on Ebert, said it was "an incalculable loss".
Oscar-winning actor Samuel L Jackson called the critic "the real deal" in his tribute tweet to his "good friend".
Steven Spielberg, who Ebert praised for his "talent and his flexibility", said it was "the end of an era".
Director and actor Mel Gibson called the writer "a gentle soul" who was more a "film historian and lover of the art" than a critic.
"I sought out his opinions and thoughts often and he was always extremely generous with his time," he said in a statement.
Ebert, who also wrote 1970 film Beyond the Valley of the Dolls, earned respect from the movie industry during his 46 years reviewing films for the Chicago Sun-Times.
Oscar host Seth MacFarlane tweeted: "One of the few critics who had actually written films. His opinion always mattered to me."
In his statement, Scorsese paid tribute to his "dear friend".
"Roger was always supportive, he was always right there for me when I needed it most, when it really counted," he said.
"At the very beginning, when every word of encouragement was precious; and then again, when I was at the lowest ebb of my career, there he was, just as encouraging, just as warmly supportive.
"We all knew that this moment was coming, but that doesn't make the loss any less wrenching. I'll miss him — my dear friend."
There was more praise for the writer on Twitter with directors Ron Howard, Wes Craven, Cameron Crowe and Darren Aronofsky leading the mass outpour of affection.
"We lost a passionate and broad minded force for cinema of all shapes sizes and genres," Howard said.
Aronofsky remembered his first review from Ebert as a "career highlight".
While Craven tweeted: "Roger Ebert gave my first film, Last House on the Left, its only positive review. Everyone else reviled it, but he saw merit in it."
Actor and director Robert Redford called Ebert "one of the great champions of freedom of artistic expression" in his statement.
"His personal passion for cinema was boundless, and that is sure to be his legacy for generations to come," he added.
Actor Steve Martin tweeted in reference to the balcony from which Ebert used to film his review show with co-host Gene Siskel: "Goodbye Mr Ebert. We had fun. The balcony is closed."