Louvre appoints Jean-Luc Martinez as new director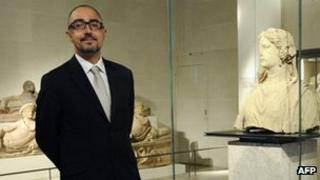 Jean-Luc Martinez has been appointed as the new director of the Louvre after being interviewed for the job by the French president.
Martinez, an expert in Greek sculpture, replaces Henri Loyrette who is stepping down after 12 years next month.
All three candidates, including Sylvie Ramond, who was bidding to become the Louvre's first female director, spoke with President Francois Holland.
Martinez currently heads the museum's Greek and Roman antiquities department.
The 49-year-old, who was handed a three-year term, has been with the Louvre since 2007 and is leading the restoration of the famed headless Greek sculpture, the Winged Victory of Samothrace.
He will oversee a number of important projects in his new role, including the controversial opening of a museum in Abu Dhabi, planned for 2016.
The project has been under fire following claims about the treatment of dissidents and the immigrant workers employed on the construction of the new building.
Loyrette will be a tough act to follow after being credited with doubling annual visitor numbers to 10 million during his tenure - making the Louvre the world's most visited art museum last year.
He also leaves the legacy of the newly opened Department of Islamic Art, together with a branch of the Louvre in the industrial city of Lens, designed to bring culture and tourism to one of France's poorest areas.