Transformers 4 heading for China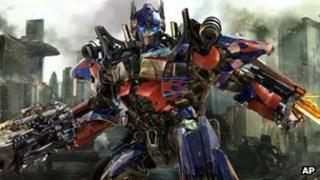 The next Transformers movie is to be partly made in China thanks to a deal between Hollywood studio Paramount and two Chinese media giants.
Part of Transformers 4 will be shot in China, Chinese actors will be cast and post-production work may be done there.
Paramount will work with the China Movie Channel, run by state broadcaster CCTV, and streaming service Jiaflix.
It is "the beginning of a new era of collaboration with the Hollywood studios", the China Movie Channel said.
It is also the latest example of China's growing influence in the film industry, after it recently displaced Japan as the world's second biggest movie market.
Chinese box office revenues surged 36% to £1.8bn in 2012, and Hollywood is keen to tap into the booming market.
It was recently announced that a version of Iron Man 3 will be aimed specifically at the Chinese market, including sequences shot in Beijing and significant product placements.
Transformers 4, which sees the return of director Michael Bay, is due for release next year and is expected to do well in China.
The third instalment of the franchise, Transformers: Dark of the Moon, took £109m when it was released in the country in 2011.
Global power
Under the "co-operation agreement", the China Movie Channel and Jiaflix are expected to invest an undisclosed amount in the production of Transformers 4 and receive a share of the box office takings.
Paramount vice-chair Rob Moore said: "We see this relationship as a reflection of the global power and appeal of both this unique franchise and Michael Bay's talents as a film-maker."
Yan Xiaoming, chairman of China Movie Channel, said: "We are very confident that the China Movie Channel/Jiaflix co-operation with Paramount will result in the famous Transformers brand being an even bigger success."
According to industry website Variety, Paramount can file for official co-production status, granted by the Chinese government, at a later date.
The most successful Hollywood film in China so far is 2009's Avatar, which grossed £146m, according to the Hollywood Reporter website.