Muppets designer Jane Henson dies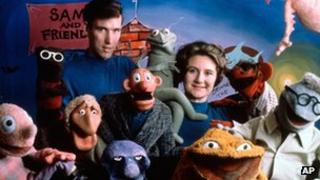 Jane Henson, the former wife of Muppets creator Jim, has died aged 78 after a long battle with cancer.
Jane Henson helped design many puppets for the hit TV show, whose characters include Kermit the Frog and Miss Piggy, and also worked as a puppeteer.
A statement from the Jim Henson Company - owned by the couple's five children - described her as an "integral creative and business partner" in the Muppets.
Henson, born in New York in 1934, died at her home in Connecticut.
She met her future husband in a puppetry class at the University of Maryland in the mid-1950s and the pair created the five-minute TV sketch show Sam and Friends, a precursor to the Muppets that featured an early incarnation of Kermit.
Sam and Friends first aired in 1955 and ran for six years, with Jane Henson giving up puppetry in the early 1960s to raise the couple's children. However, she went on to make occasional appearances in Sesame Street, which featured some of their creations.
The Muppet Show made its TV debut in 1976 and has enjoyed enduring popularity. The 2011 film The Muppets won an Oscar and was a box office hit, and British actor Ricky Gervais is playing the lead role in the sequel The Muppets... Again, which is due out next year.
Henson separated from her husband in 1986, four years before his death from infection-induced organ failure aged 53.
She went on to found the Jim Henson Legacy to preserve his artistic contributions.