Motown piano returns to Detroit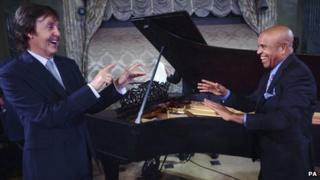 A grand piano used in the Motown Records studios has been restored and put on display at a museum dedicated to the legendary record label in Detroit.
Sir Paul McCartney helped fund the restoration of the 1877 Steinway, which was originally in Motown's Studio B.
Studio B was used to create hits for names including Marvin Gaye, Stevie Wonder and Edwin Starr.
Robin Terry from the Motown Historical Museum said: "We're happy to see our baby come home."
Terry, the chair of the museum's board, told the Associated Press: "This piano is part of our treasured collection of historical artefacts that tell the Motown story."
Sir Paul, a longtime Motown fan who recorded several Motown covers with The Beatles, offered to help pay for the piano's restoration after discovering it was unplayable during a visit to Detroit in 2011.
Work was finished last August, and McCartney and Motown founder Berry Gordy played it together at a charity event in New York in September.
It has now been returned to the museum, located in the label's Studio A, which was dubbed Hitsville USA during the soul label's 1960s heyday.
The piano is now back to professional recording standard, with all of its internal components - including soundboard, keys, hammers, pins and strings - restored.
The original strings and hammers were beyond repair, but have been retained and will be exhibited.
Special visitors who know their way around the ivories - such as Sir Paul - will be allowed to play it.
"One of the lessons that we were learned in this process is that instruments like that have to be played," Terry said.
"Our approach to the piano prior to that was not to play it and to protect it and preserve it. The truth is... it's built to be played.''