Horrible Histories books have 'naturally come to an end'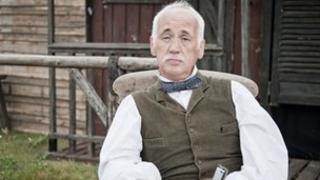 Popular children's book series, Horrible Histories, is to end after 20 years according to author Terry Deary.
He said on his website that he is writing a new range of history books for adults for the next two years.
Horrible Histories has "naturally come to an end," he told the Times. "It has had a good run, it's had a better run than most children's series."
His publishers have not officially stopped the series, but he said there was "a general feeling" it will finish.
Deary, famous for his catchy titles, said he expects his next book, Deadly Days in History, to be his last for children.
"Things do have a saturation point after which they become taken for granted. It would a shame if that happened," he added.
His first book, The Terrible Tudors and The Awesome Egyptians, was published in 1993 and since then he has written more than 60 children's books.
Illustrated by Australian artist Martin Brown, the series details the gory and disgusting side of history, such as how England's Tudors boiled some prisoners alive.
Deary, 67, said he would "never say never" to writing another Horrible Histories edition, but is focusing on a four-part history series for adults on the Roman Empire, the Elizabethans, the Vikings and the Victorians.
The books, including Ruthless Romans, Cut-Throat Celts and Vile Victorians, have been translated into 25 languages and sold more than 25 million copies in 40 countries.
The author, who has seen Horrible Histories adapted for TV as a CBBC series, said he would not miss writing the books.
"You have to immerse yourself in a new subject and hope there's something horrible to write about," he said.
When asked whether his younger fans will be disappointed, Deary said: "There is an awful lot to keep them going, some written 16 years before they were even born."