Coldplay album tops Radio 2 'favourite' vote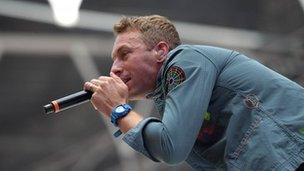 Coldplay have beaten the likes of Pink Floyd and The Beatles to the top of a BBC Radio 2 poll to find listeners' favourite album of all time.
A Rush Of Blood To The Head, Coldplay's second album, which was released in 2002, came top of the list.
Keane's Hopes And Fears took second place, with Duran Duran's Rio in third.
Pink Floyd's Dark Side Of The Moon came fourth, while The Beatles' 1967 classic Sgt Pepper's Lonely Hearts Club Band could only manage eighth place.
The poll was held to tie in with the recent BBC season The Golden Age of the Album.
A Rush Of Blood To The Head, which includes hits such as Clocks and The Scientist, topped the charts in 2002 and sold more than 2.8 million copies in the UK.
Radio 2 head of music Jeff Smith said: "With albums ranging from Sinatra in the '50s to Emeli Sande in the last year, the range of eras and genres exhibited by the chart is typical of the breadth of Radio 2 and its distinctive music policy.
"Musicians such as Coldplay and Dido have struck a chord with listeners and are in good company in the top 10 alongside legendary bands like The Rolling Stones and The Beatles, whose appeal remains undiminished after all these years."
Dido's No Angel was in fifth place, just ahead of Sticky Fingers by The Rolling Stones. The Pet Shop Boys' 1987 favourite Actually was in seventh place, edging ahead of The Beatles, with U2's The Joshua Tree and A Night at the Opera by Queen completing the top 10.