Your memories of Richard Griffiths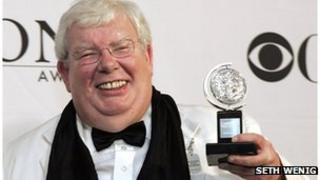 British actor Richard Griffiths has died at the age of 65 from complications following heart surgery.
His most prominent roles include Uncle Monty in the film Withnail and I and Vernon Dursley, the grumpy uncle, in the Harry Potter films.
In 2006 he won a Tony award in New York and an Olivier award in London for the role of Hector in Alan Bennett's The History Boys, a role he later reprised on film.
On television he was best known as the policeman chef Henry Crabbe in Pie in the Sky.
BBC News website readers have been sharing some of their memories of meeting Richard Griffiths.
Lorna May Wadsworth, London
Richard Griffiths sat for a portrait for me on the stage of The National Theatre when he was in The History Boys.
He was as delightful as a huge fan of his Uncle Monty could wish for, spontaneously spouting poetry into the air above the stage and regaling me with stories.
He loved the portrait I painted of him so much he bought it.
It's so nice to know his wife has that now.
I remember he wasn't wearing his own glasses, but the glasses worn by Hector in The History Boys.
I last saw him last summer when I was Artist in Residence on Richard Curtis's forthcoming film About Time, where he worked in a scene alongside Richard E Grant.
It was the first time they had worked together since Withnail, which was an honour to witness.
One of my sketches was The Three Richards at the Old Vic (where the scene was being filmed), which was of him, Richard E and Richard Curtis.
He was indeed a remarkable man, a prodigious talent and a huge personality.
I will miss his presence in the firmament hugely.
Ralph Graham, Witham, Essex
I had the good fortune to be a professional adviser to the Alan Bennett film A Private Function, in which Richard Griffiths played one of the leading parts.
I am a podiatrist and the Michael Palin character was a chiropodist so they asked me to advise.
As a complete novice to filming, I was included by Richard and the other leading cast members in the breaks, the chatting, and the exchange of wonderful theatre stories.
There was a lot of sitting around waiting while lights where moved and sets were changed and Richard Griffiths and Denholm Elliot took turns bringing in wine.
The filming was in a house in Ealing so I would be sitting in the garden with them, listening to their fabulous stories.
He had all sorts of stories - of working with theatre greats like Olivier and of all the things that go wrong.
There is a line in the film where Richard Griffiths' on-screen "daughter" is practicsng the piano in another room and making a racket where he says, "Not now, Veronica" and that line has become a family line for us.
None of our children are called Veronica, but we always say it when we want them to stop doing something.
He was most charming man and a great actor.
Hester Doherty, Shrewsbury
I was at Billingham Technical College with Richard in 1966-67.
He was doing a drama course there and took part in the college production of Electra.
He was a riveting performer - even at that young age it was clear he'd got it.
He looked very much the same then as he did all his life. He never really changed, he just got greyer.
He was always rather eccentric and good fun to be with, a larger than life character.
I noticed he wore his maroon and yellow Billingham Technical College scarf in Pie in the Sky, so he must have kept memories of it.
His career was amazing.
I remember he came from an ordinary working class background and both his parents were profoundly deaf, so I always thought he'd done tremendously well.
Some more of your memories:
Tony Millner, Eastbourne
I met Richard when working at Newcastle Repertory Theatre in the 70s. We were a dynamite pool duo and spent many glorious days at the race track. We became life-long friends. If you were lucky enough to know him, you wanted him for a friend. He would never let you down. Our thoughts are with his wife, Heather. We will miss him so much.
Michelle Dale, Stratford-upon-Avon
It's a sad day for Stratford-upon-Avon. Richard was well-known and well-respected in the area. He was a fabulous actor and a wonderful down-to-earth gentleman. Will miss not seeing him at the local garage, shopping in the supermarket or having a chat in the local hospital car park - both of us complaining about the charges!
Frank, Hailsham
Richard attended our daughter's wedding in 1996. Our condolences go to his wife Heather and family. He was a gentle giant who was very pleasant to speak with. He will be missed by all those who enjoyed his performances, whether on stage, screen or TV.
Neil Compton, Leamington Spa
I knew Richard for about five years when I was a delivery driver for Parcelforce about 15 years ago. He lived in a village called Bearley, near Stratford-upon-Avon. We used to have a chat now and again. He seemed like a nice guy.