Arab women film-makers in spotlight
By Emma Jones
Entertainment reporter, BBC News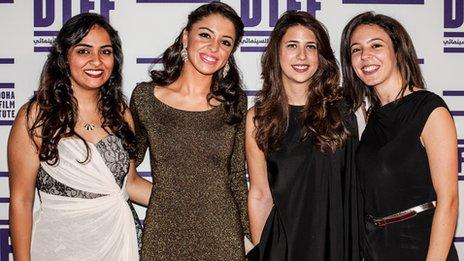 It's an event dedicated to women in film - and this year the Birds Eye View Film Festival in London focuses only on features made by Arab female directors.
The reason for this, according to its programme director Elhum Shakerifar, is that their work is currently on a size and scale unmatched elsewhere.
"Over the last year we have travelled to places like Doha in Qatar, Dubai and Abu Dhabi, and there is a huge feeling of excitement in these places," she explains.
"There's a new wave of film-making in the Arab world, and women are at the front of it.
"However, we know that by doing this, we're facing a dual problem," she adds.
"Not only is there stereotyping around 'the female director', but we also have to contend with the Western media stereotype of the Arab female. But none of these films deliver what you expect."
The event opens with the UK premiere of When I Saw You, by Annemarie Jacir, who in 2007 became the first Palestinian woman to make a feature film.
It also features the work of a first-time British-Egyptian director. In The Shadow Of A Man, by 24-year-old Hanan Abdullah, exposes the beliefs of four Egyptian women on equality in the wake of the Arab Spring.
In the same year, no woman competed for the prestigious Palme d'Or prize at the Cannes Film Festival.
Yet the Doha Film Institute in Qatar, which funds local film-makers, reports that 42% of all its grants since 2010 have been to women, and that last year a third of all films shown at the Doha Tribeca Film Festival were by female directors.
"We are a young part of the world," explains Haifaa al-Mansour, the breakthrough director of Wadjda - the first feature film made by a Saudi Arabian woman.
"Lots of young women are now online and want to form a new global identity. This clashes with many traditionalists around them, and I think this creates a beautiful tension for film-makers to explore."
"Gender bias hasn't hindered the film industry in the way it has more conventional professions in the Middle East," adds Nadine Kirresh, the presenter of the Big Screen cinema show on the al-Arabiya news channel.
"The cultural landscape is changing in the Middle East, the Arab Spring gave power to the people and women are challenging oppression, inequality and corruption - and from this, stories are born.
"Also, we have seen dozens of female film-makers living abroad return to their countries to tell their histories."
Ultimately, though, Shakerifar believes the burgeoning industry is down to funding.
"These films we feature in Birds Eye View have been in the pipeline for four or five years, so while these women are very much the generation of revolution, things were changing before that, and that's because of money.
"There are institutions in place like the Doha Film Institute, but also in Lebanon, Jordan, and Dubai, to fund and nurture emerging film-makers.
"They also have international film festivals showcasing local talent, and encouraging a whole industry to develop. I'm just not sure that we have the same infrastructure.
"It's not an established industry either, as in the West, and that can make it easier for a woman to get a breakthrough."
Perhaps it's not the cause, but revolution has provided ample subject matter for these directors.
One documentary showing at Birds Eye View - As If We Were Catching A Cobra by Hala Alabdalla - started off as an exploration of Egyptian and Syrian cartoonists - and then abruptly deviated as insurgency broke out in both countries.
Arab-American director Jehane Noujaim found herself in Cairo's Tahrir Square in 2011, and spent the next 18 months filming her documentary Al Midan - The Square. It won an audience award at the Sundance Film Festival and, thanks to online public funding, will now be released.
"Most of the filmmakers on our team were either beaten, shot at or arrested during filming," says Noujaim, who along with other filmmakers collected hundreds of hours of footage.
"We all felt compelled to be there filming the transformation of our country by the people on the ground."
Meanwhile, four graduates of Qatar's Northwestern University travelled across the Middle East during the Arab Spring to make The Lyrics Revolt, a documentary investigating the role of hip-hop music in the revolution.
"We want to tell stories from our part of the world," explains one of them, Palestinian Rana Khaled al-Khatib. "And on this journey we found a lot of support as young Arab film-makers.
"Our first private backer was another woman who said to us, 'I believe in young women doing what you are doing'."
While these films are bearing international fruit - the Sundance Film Festival opened this year with a Jordanian feature, May in the Summer, by 36-year-old Cherien Dabis - its director warns that the local infrastructure is still not in place to support film-makers.
"I was determined to make this feature in Jordan," Dabis says. "But a lot of the equipment, and most of the technical crew, had to come from the US. So it became very complicated.
"However, it was worth it. Where else in the world could I film both women wearing bikinis and burkinis?"
"Don't think that the situation in the Middle East isn't often very difficult for a woman," adds al-Mansour.
"It's still a lot of struggle, and it's very important for a woman not to feel afraid, and to create stories which are not only daring, but genuine in the way they see the world.
"For a woman to take charge, and make films, still often goes against our society. I am from a tribal society, where decisions are taken collectively and there is still a lot of ignorance.
"However, now is our time."
The Birds Eye View Festival runs from April 3-10 at the London venues the Southbank Centre, Barbican, ICA and Hackney Picturehouse.
Related Internet Links
The BBC is not responsible for the content of external sites.