The Sun newspaper to introduce online paywall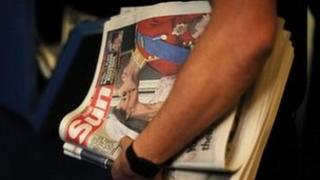 UK readers of The Sun are to be charged for online access to the newspaper later this year.
Rupert Murdoch's News International, which owns the red top said it was implementing a paywall as the existing free online version was "untenable".
Chief executive, Mike Darcey, said it was threatening the tabloid's circulation and revenues.
The Sun follows the Telegraph which announced on Tuesday it would begin charging readers for online access.
It will allow online readers free access to 20 articles each month, following which they will be charged a monthly subscription fee.
Mr Darcey told the Guardian: "This decision comes from a deep-seated belief that it is just untenable to have 2.4 million paying 40p for the Sun at the same time as a bunch of other people are getting it for free.
"The Sun website is a fantastic website and sometimes it is a better product. I have to believe that we are all suffering, to a greater or lesser degree in the print world because of that, that part of those people are saying day in, day out 'why am I paying for the Sun when I can get it for free'," he said.
Lisa O'Carroll wrote in the Guardian: "Murdoch has been a staunch opponent of the advertising model for online newspapers and his decision to start charging for the Sun comes just three months ahead of a demerger of his News Corp company, which will be split into separate entertainment and publishing companies.
"The move piles pressure on his three UK titles, of which only the Sun is profitable, to be commercially successful," she said.
The Times newspaper, also part of News International, introduced a subscription service for its online version three years ago.