Matt Lucas to star in 'silent' BBC comedy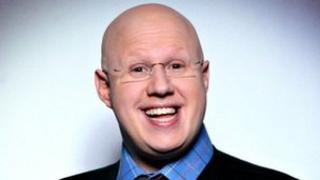 Matt Lucas is to make a new six-part comedy series for the BBC that will not feature any dialogue or his Little Britain sidekick David Walliams.
Planned for late 2014, the show casts the 39-year-old as Pompidou, described as "an elderly aristocratic English oddball who has fallen on hard times".
Lucas said he was "delighted to be back at the BBC with [a] show full of new characters [but] no dialogue at all".
The result, he hoped, would "appeal to audiences in Britain and beyond".
The actor said he had always been "a huge fan of the visual comedy of Charlie Chaplin, Laurel and Hardy and of course, our very own Mr Bean".
BBC One controller Danny Cohen said the show, provisionally named Pompidou, would be "wonderfully original and ambitious".
Currently seen on BBC One presenting The Matt Lucas Awards and in selected cinemas in the film Small Apartments, Lucas is best known for appearing with Walliams on the sketch show Little Britain.
But they have not worked together in a character comedy series since 2011's aviation-based Come Fly With Me.
Earlier this year, Walliams revealed he had been keen to make a second series of Come Fly With Me but Lucas felt differently.
"I was disappointed," Walliams told Esquire magazine. "When you've started something like that, one series never seems enough."