Tilda Swinton beds down for Museum of Modern Art role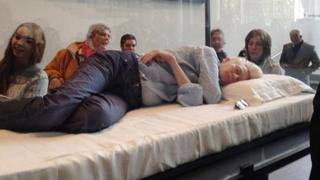 Oscar-winning actress Tilda Swinton has revealed her latest role - sleeping in a glass box for eight hours at the Museum of Modern Art in New York.
Swinton surprised visitors on Saturday with an unannounced appearance in the art installation titled The Maybe.
She will take part in the one-person piece about six more times on different dates in different locations around the gallery before the end of the year.
The actress first took part in the artwork in London in 1995.
At that time, 22,000 people saw her at the Serpentine Gallery in the installation, a collaboration with Turner Prize-nominated artist Cornelia Parker.
Swinton won an Oscar for Michael Clayton in 2008 and her other films include Moonrise Kingdom and We Need to Talk About Kevin.
She was recently seen in the video for David Bowie's latest single The Stars (Are Out Tonight).