Charming Baker: East London artist goes to Hollywood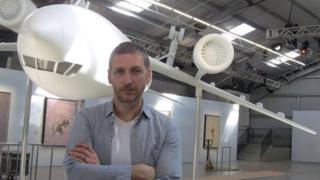 With a huge upside-down model aircraft as its centre piece, Charming Baker surveys the last minute preparations for his largest ever solo exhibition.
The London artist, a rapidly rising star in the art world, is showcasing his work - exploring the unpredictable nature of love - at a gallery in Hollywood.
"Something very exciting is happening here," he says, with an air of contentment.
"Hollywood comes with its own kind of glamour, doesn't it? It's that part of all of our lives that we're so familiar with, without even visiting. People are very open; I'm happy that we're here."
The three-day show, at Milk Studios, will run until Sunday. It marks a high point in what has been an extraordinary journey for the former commercial artist from Lewisham.
Five years ago he was living in a council flat, with five children and no professional representation. He was a jobbing artist doing illustrative work, such as book covers and commercial projects.
Everything changed when, out of the blue, his work was spotted by executives from a US music management company.
"When you hear a great song it sucks you in emotionally and it's the same thing with his work," says Pat Magnarella, who manages bands such as Green Day, the Goo Goo Dolls, The All-American Rejects and singer-songwriter Rumer.
"It's got everything," he explains. "Colour, humour, darkness. When you see it, you're like, 'man, what is going on in this guy's head?'"
Magnarella and Baker had their first meeting in an east London pub. The veteran music industry manager was so taken with the artist that he bought several pieces and the pair embarked on a unique business relationship.
Baker, and his colleague Roger Klein, recognise the parallels that can exist between fine art promotion and the management of a rock band.
"We have to believe in their art, we have to believe that they have the wherewithal to develop over time, and we have to like them as people," says Klein, who is a long-time A&R (artists and repertoire) man.
"We're there to nurture them and make them feel safe. That's a new kind of a concept for an artist because they're used to doing everything on their own."
Magnarella likens Baker's Hollywood debut to Green Day's rock opera adaptation, American Idiot, opening on Broadway.
"From Shoreditch to this, it's pretty insane," he says.
"LA is a melting pot. You've got film, TV, music, high finance - everything is here in this crazy town. But I don't think they've seen anything like this before."
The exhibition, entitled Lie Down I Think I Love You, comprises 20 paintings, including two recent works: It is my Heartfelt Desire to Improve but I Never Do and The Only Thing I'm Sure of is That I'm Sure of Nothing.
They are on show alongside sculptures and further prints which the artist has spent the past two years developing. There is also a working art element to the show, with an accompanying print room featuring new releases throughout the exhibition.
Some of Baker's works have a 3D texture, with holes drilled into the canvas, often at the epicentre of the painting.
"I like two or three different languages on the page," he explains.
'Old banger'
Many pictures feature animals, or metaphors, as Baker puts it. There is also poignancy to his work, with a life and death theme.
"It's joyful despair that we all live through - that gift of life, that amazingly precious thing that we have and we know that it is going to end. "
For the exhibition, the paintings are displayed with stark simplicity in a huge hangar-like building.
"It's not a moving film, it's not a piece of music that you have to play, it's just one still image. It doesn't need lighting, it's not an installation that needs electricity, it's the most basic form of visual expression. It's just a painting, a picture on a flat surface," explains Baker.
In recent years Baker has had sell-out shows in London and New York. He has seen the value of his work increase from £2,000 a piece in 2008 to more than £150,000. His shows in LA are expected to attract some of Hollywood's biggest names.
But while he is excited, Baker has his feet firmly on the ground.
"Financially, things are massively different than they were six years ago," he says.
But rather than living a lavish lifestyle off the back of his paintings, Baker says he prefers to pour his earnings back into his work.
"After a certain amount of money per picture... I'm sure the market is interested... but for me personally, if they make over a certain amount, the rest is gravy," he says.
"It sounds a bit crass to say I'll put it all back into art, but it's the thing that excites me. I don't want a Maserati."
"The truth is that I'm heading towards 50. I'm a very simple man.
"As Mary Poppins said, 'enough is as good as a feast.' I don't spend much money. I still drive an old banger. I'm quite happy with my life. I put on old jeans and go to the studio and paint in a room by myself."