Deep Throat porn actor Harry Reems dies aged 65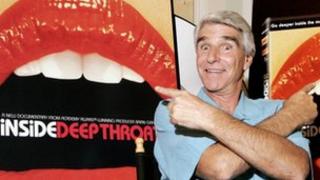 Harry Reems, the male star of the 1972 infamous pornographic film Deep Throat, has died at the age of 65.
His wife, Jeanne Sterrett Reems, said he died in hospital in Salt Lake City on Tuesday.
Doctors have not determined the cause of death, but his wife said he had multiple health issues, including pancreatic cancer.
Deep Throat was the first "porno" widely seen in cinemas and made an estimated $600m (£382m).
The film, starring the late Linda Lovelace as Reems' patient, drew middle class audiences to the cinema and became a forerunner of today's hardcore adult entertainment industry. But it caused such outrage, that Reems was subsequently convicted of obscenity.
His high-profile appeal was backed by celebrities including Jack Nicholson and Warren Beatty and the conviction was eventually overturned.
At the 2005 premiere of a documentary about the film at the Sundance Film Festival, Reems said Deep Throat was the first film to "drop any pretence that it had educational value".
Starring role
"There was no socially redeeming value, and so the word of mouth went out from people who saw it saying 'This is just a comedy. It's great. You've got to see this'."
Reems was born in New York in 1947 as Herbert Streicher, serving in the US Marines before moving into the entertainment industry in the 1970s.
He was working on Deep Throat as a lighting director, but was thrown into the film's starring role when the original male lead did not work out.
After Deep Throat, in which he played a doctor helping Lovelace with a sexually sensitive area at the back of her throat, Reems went on to star in dozens of adult films, including The Devil in Miss Jones.
"He hated, at the end, doing porn," his wife said. "It was all he could make money doing."
Don Schenk, who knew Reems for 20 years, described his friend as a "nice guy," a great salesman and an avid golfer and skier.
"I met him long after he left the adult film industry. The adult film industry basically destroyed him," said Mr Schenk. "He would never talk about the salacious stuff , we always talked about how he was a survivor."
Reems left the porn industry in 1980 and moved to Park City, Utah, where he later became a real-estate agent, marrying Jeanne in 1990.
"He was very romantic and a great husband," she said.
The actor, who struggled with multiple health problems which kept him at home in his final years, was admitted to hospital earlier this month.
He also received chemotherapy treatment earlier this year for pancreatic cancer.
"His last year or so was really, really hard," Jeanne said.