Comic Relief Archbishop sketch draws 2,200 complaints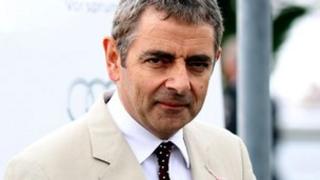 A Comic Relief sketch featuring Rowan Atkinson as the Archbishop of Canterbury has drawn more than 2,200 complaints to the BBC.
In the pre-21:00 watershed sketch, Atkinson - playing a fictional version of the Church leader - compared boyband One Direction to Jesus's disciples.
He also claimed praying "doesn't work".
A BBC statement said the sketch "was intended to amuse and entertain," adding, "we did not mean to cause any offence".
Around a quarter of the complaints were specifically about religious offence, with the rest concerned with pre-watershed language.
The sketch has since been removed from the BBC's iPlayer.
The BBC received almost 3,000 complaints in total over the charity fundraising night of programming.
Other complaints over the event - which drew a peak audience of 12.2 million people - involved another sketch involving the popular series Call The Midwife.
A statement said Comic Relief was "known for pushing at the boundaries of comedy alongside heartfelt appeal films".
It added that "getting the language, tone and content of the evening is extremely important to us... to any viewers we may have offended, we apologise".
A host of UK stars were involved in this year's event which marked Comic Relief's 25th anniversary.
Other sketches featured X Factor mogul Simon Cowell rejecting advances from David Walliams and Louis Walsh only to marry himself, while Ricky Gervais resurrected The Office's David Brent for an appalling new song promoting racial diversity called Equality Street.