Obituary: Frank Thornton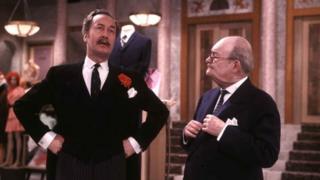 Frank Thornton, who has died at the age of 92, was a character actor who spent more than 20 years in bit parts until achieving national fame as the pompous Captain Peacock in the BBC sitcom Are You Being Served?
Born Frank Thornton Ball on 15 January 1921 in south London, he wanted to act from his early childhood after watching the comedy stars of the silent film at a local cinema.
His father insisted he find a more stable career so he went into insurance, but soon began attending evening drama classes at the London School of Dramatic Art.
After two years he was offered a place as a day student and persuaded his father to finance his studies.
At the outbreak of World War II he, together with his fellow students, was evacuated to Oxfordshire where he found his first job in a touring production.
He returned to London in 1941 where he worked for the actor and impresario Sir Donald Wolfit who had re-opened the Strand Theatre to put on lunchtime productions of Shakespeare.
He was conscripted into the air force as a navigator in 1943 and, after the end of the war, remained in the RAF entertainment unit where, among his charges, were Dick Emery, Peter Sellers and Tony Hancock.
He appeared in the Edgar Lustgarten-hosted series The Silent Witness in 1954 and, a year later, was credited in the part of Inspector Finch in the British film Radio Cab Murder.
Are you free?
The next 15 years saw him appearing in a wide range of small character parts in films and TV series including The Avengers and Danger Man.
He also appeared in various comedy programmes such as It's a Square World, Hancock's Half-Hour, The Benny Hill Show, Sykes and Steptoe And Son, as well as movie spin-off Steptoe And Son Ride Again.
In the 1966 film Carry on Screaming!, Thornton had a small role as the owner of a ladies' clothing shop.
But it was in 1972 when he took the role of the officious Captain Stephen Peacock in the comedy series, Are You Being Served? that he became known to millions.
As the well-dressed and superior-looking floor manager he had the job of keeping the staff of the Grace Brothers department store on their toes.
The series, relying on seaside postcard-style innuendo, was an enormous hit with the audience peaking at more than 22 million in 1979.
Thornton's experience as a comedy straight man made him ideally suited as the foil for characters such as Mrs Slocombe (Mollie Sugden) who sported a different hair colour every week and harped on about her "pussy", and the camp Mr Humphries (John Inman), famous for his catchphrase: "I'm free!"
In 1980, he appeared alongside John Cleese in the BBC Television Shakespeare production of The Taming of the Shrew.
Are You Being Served? ran until 1985. Thornton returned to a series of bit parts for the next seven years before reprising his role as Captain Peacock in the 1990s series Grace & Favour.
Relying on the same saucy humour and the same catchphrases, it saw five of the original cast running a hotel but the format was looking tired and the series only lasted for 12 episodes.
In 1997 Thornton joined the cast of the long running comedy series Last of the Summer Wine, as the character Herbert "Truly" Truelove.
Thornton's film roles included saucy 1970s British romps No Sex Please, We're British and Up The Chastity Belt. In 2001 he was among the cast for the Julian Fellowes-scripted period drama Gosford Park.
His last film credit was a cameo in British film Run For Your Wife, alongside Richard Briers, who died in February.
A passionate conservationist he supported a number of organisations including the World Land Trust and RSPB.
Thornton was rarely out of work in a career that spanned more than 50 years, one of that fine school of British character actors which has graced TV and cinema.
He is survived by Beryl, his wife of 67 years, daughter Jane and their three grandchildren.