Pritzker prize awarded to Japanese architect Toyo Ito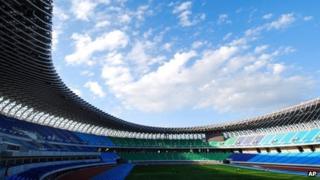 Japanese architect Toyo Ito has won this year's prestigious Pritzker Architecture Prize.
Ito, who created London's Serpentine Gallery Pavilion in 2002, was recognised for the libraries, houses, offices and other buildings he has designed in Japan and around the world.
Judges commended the 71-year-old for improving the "quality of both public and private spaces".
He will receive $100,000 (£62,000) at an awards ceremony in Boston in May.
Past winners of the annual award, dubbed as architecture's Nobel prize, include Frank Gehry, IM Pei, Tadao Ando, and Renzo Piano.
Inspiring
Accepting the honour, Ito said whenever he completes a design he becomes "painfully aware of my own inadequacy, and it turns into energy to challenge the next project".
"Therefore, I will never fix my architectural style and never be satisfied with my works," he said in a statement.
US Supreme Court Justice Stephen Breyer, who served on the jury, said Ito had "inspired many architects, critics and members of the general public alike".
"Along with all others involved with the Pritzker Prize, I am very pleased that he has received the award," he said.
Ito's buildings have been praised for their fluid beauty and balance between the physical and virtual world.
Among his notable designs include the curvaceous Municipal Funeral Hall in Gifu, Japan; the transparent Sendai Mediatheque library in Miyagi, Japan; and the spiral White O residence in Marbella, Chile.
"His buildings are complex, yet his high degree of synthesis means that his works attain a level of calmness, which ultimately allows the inhabitants to freely develop their life and activities in them,'' said Chilean architect and jury member Alejandro Aravena.
Ito began his career at Kiyonori Kikutake and Associates after he graduated from Tokyo University in 1965, going on to found his own architecture firm in 1971.
His works have been exhibited in museums in the US, England, Denmark, Italy, Chile and numerous cities in Japan.
Chinese architect Wang Shu won the prize last year - the first Chinese citizen to do so.