Madonna celebrates Anderson Cooper at Glaad Awards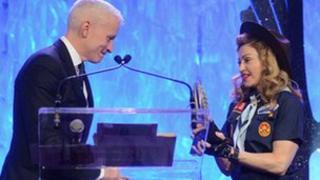 Madonna presented talk show host Anderson Cooper with a trophy at the Glaad Media awards in New York.
The annual event celebrates the gay, lesbian and transgender community.
Other winners on the night included director Brett Ratner and TV shows Smash and The Amazing Race.
Madonna gave an impassioned speech to the audience about discrimination and tolerance, while dressed as a boy scout.
"When I think about young kids in America who are being bullied and tortured, who are taking their own lives because they feel alone and judged, outcast and misunderstood, I want to sit down and cry rivers of tears," she said.
"I have teenagers of my own now, and the idea of them, or any young person experiencing that kind of pain is unfathomable to me, It's an atrocity to me. I don't accept it."
Journalist and author Cooper was given the Vito Russo Award, named after a Glaad (Gay and Lesbian Alliance Against Defamation) founder, which is presented to an openly LGBT media professional who has made a significant difference in promoting equality.
Accepting his award, Cooper said "being gay is certainly one of the greatest blessings" and that it had "opened my head and heart in ways that I never could have predicted".
'Admired and heralded'
The inaugural Ally Award presentation to Hollywood director Brett Ratner came 16 months after he resigned from producing the 2012 Oscars after using a gay slur in an interview.
Following the incident he apologised for his choice of words and has since worked closely with Glaad on a public service campaign called Coming Out for Equality, which features straight celebrities and athletes "coming out of the closet" to support equality.
"Brett Ratner's dedication and leadership will inspire countless to speak out in support of LGBT friends, family, neighbours and children," said Glaad president Herndon Graddick.
"From high school jocks to faith leaders, those who follow Brett's lead are admired and heralded, while anti-LGBT bullies are increasingly ridiculed and marginalised."
The Oscar-nominated How to Survive a Plague, which tackles the early years of the Aids epidemic, won the best documentary prize, while Broadway-inspired TV show Smash won best drama.
Two further Glaad events will be held in Los Angeles and San Francisco to honour other media personalities.