Morrissey cancels remaining tour dates due to illness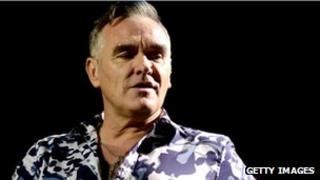 A series of "medical mishaps" has forced Morrissey to cancel the rest of his concerts in the US, his publicist has said.
The ex-Smiths frontman has suffered a number of illnesses including a bleeding ulcer, Barrett's oesophagus and double pneumonia.
The 53-year-old, who was due to perform at Liberty Hall in Kansas on Monday, has pulled 22 shows.
The singer had already called off 21 gigs this year due to poor health.
His publicist said Morrissey fans would be refunded for the remaining gigs.
Bleeding ulcer
In February Morrissey apologised to his fans and said he was "on the road to recovery".
Morrissey said in a statement published on fansite True To You that his ulcer was now "under reins" and assured fans he would be "fit as a ferret for San Diego".
However on Saturday his publicist Lauren Papapietro said despite his best efforts to try to continue touring Morrissey had "taken a hiatus and will not be able to continue on the rest of the tour".
She added: "Morrissey thanks all of his fans for their well-wishes and thoughts. Refunds for the remaining shows are available at point of purchase."
Morrissey, who led revered Manchester indie band The Smiths in the 1980s, was treated in a Michigan hospital in January for a bleeding ulcer.
In recent months the animal rights activist, who made his return to the stage last month at a show at the Staples Center in Los Angeles, has also suffered from a throat condition, Barrett's oesophagus, and anaemia.