Phil Spector film picketed by Lana Clarkson's publicist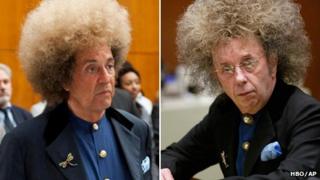 Friends of Lana Clarkson, the actress murdered by music producer Phil Spector, have been protesting at a screening of the film about his trial.
The movie, starring Al Pacino, focuses on his relationship with his defence lawyer, played by Helen Mirren.
But the group against the film say it is too sympathetic towards Spector's defence case.
Clarkson's former publicist, Edward Lozzi, called the film a "slap in the face".
He told the Hollywood Reporter the group initially hoped to stop the film from being made, but now wanted to ensure it receives no Emmy award recognition.
Spector was convicted of second-degree murder in 2009 for shooting Clarkson in his California home in 2003.
He is serving a prison sentence of 19 years to life.
"If this in any way makes Lana Clarkson look responsible for her own death, we are going to lobby the [television] Academy to prevent anyone from receiving an award," Lozzi said to the New York Post.
"Seeing Al Pacino play a crazed murderer like Phil Spector, who wouldn't want to see that? But it is a bunch of lies," he added.
The film's director David Mamet told the Financial Times in 2011: "I don't think he's guilty. I definitely think there is reasonable doubt."
At the New York premiere of the film, Spector's defence lawyer, Linda Kenney Baden, told CNN the film was about "soul-searching".
"Do we convict people because of how they look, what they look like, whether they're freaky looking? Or do we convict people on the evidence?" she said.
Producers say the film "is neither an attempt to depict the actual persons, nor to comment upon the outcome", according to an on-screen disclaimer.
Spector's wife Rachelle has also been speaking about the film which is due to air on HBO in the US on 24 March.
She told Entertainment Tonight it "brought tears" to her eyes but called it "fictionalised" and "bogus".