Tan Twan Eng wins Man Asian literary prize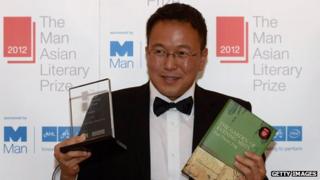 Author Tan Twan Eng has become the first Malaysian author to win the Man Asian Literary Prize.
His novel, The Garden of Evening Mists, is set during the aftermath of the Japanese occupation of Malaya.
He beat four other shortlisted authors, including Turkish Nobel Laureate Orhan Pamuk, to take home $30,000 (£20,000).
Literary critic and journalist Maya Jaggi, who led the judging panel, said Tan's novel had "stylistic poise and probing intelligence".
The Garden of Evening Mists follows a young law graduate who discovers the only Japanese garden in Malaya and its secretive owner and creator.
Jaggi said the novel was "about guilt and atonement and how love transforms people's conceptions of themselves and what they've done".
The book was previously shortlisted for the 2012 Man Booker Prize, which eventually went to Hilary Mantel's Bring Up the Bodies.
Born in 1972 in Penang, Tan Twan Eng worked as a lawyer in Kuala Lumpur before becoming an author.
His debut novel, The Gift of Rain - also about the Japanese occupation of Malaya - was longlisted for the Man Booker in 2007.
First awarded in 2007, the Man Asian literary prize, is given annually to the best novel by an Asian writer, either written in or translated into English, published in the previous calendar year.
Last year's winner, Please Look After Mom by South Korean author Kyung-Sook Shin, went on to sell more than two million copies.