Film fraudsters convicted over tax scam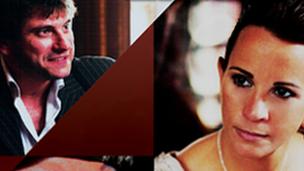 Five people have been convicted for a tax scam in which they tried to claim £2.8m for a Hollywood blockbuster that they never intended to make.
The five, from across the UK, pretended that unnamed Hollywood A-listers would star in the multi-million pound production, to be filmed in the UK.
After their arrest, they tried to cover up the scam by shooting a film called A Landscape of Lies on a small budget.
Released on DVD in 2011, it starred Loose Women presenter Andrea McLean.
The five people convicted were Bashar Al-Issa, 34, from Maida Vale, London; Aoife Madden, 31, from Northern Ireland; Tariq Hassan, 52, from Essex, Ian Sherwood, 53, and Osama Al Baghdady, 42, both from Manchester.
Claiming a Jordanian company was backing the film to the tune of £19m, they attempted to claim £1.48m in VAT and £1.29m in tax credits.
When Her Majesty's Revenue and Customs (HMRC) followed up with checks, they found the work had not been done and that most of the so-called suppliers and film studios had never heard of the project.
The investigation led to HMRC's first prosecution for film tax relief fraud.
"This gang thought they could exploit rules for genuine British film-makers and thieve from the public purse for their own gain," said John Pointing of HMRC's Assistant Director of Criminal Investigation.
"We are pleased that instead of this film flop going straight to DVD, these small-screen z-listers could go straight to jail."
The gang attempted to cover their tracks by shooting a shoestring-budgeted film with McLean and EastEnders' Marc Bannerman among its cast.
A Landscape of Lies turned out to be an award-winner, taking a 'Silver Ace' at last year's Las Vegas Film Festival.
Al-Issa was convicted of two counts of conspiracy to cheat the public revenue and the others of one count of that offence each at Southwark Crown Court.
The five are due to be sentenced on 25 March.
Related Internet Links
The BBC is not responsible for the content of external sites.