Matilda star Carvel against plans for extra Sunday show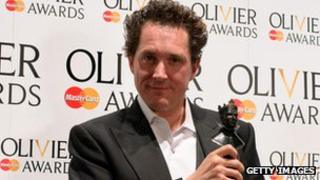 Actor Bertie Carvel has criticised a proposal that could see stage workers performing two shows on a Sunday.
Currently productions only have a second Sunday performance if negotiated with a show's company.
But a clause in a proposal by actors' union Equity and the Society of London Theatre would allow companies to stage two shows, if voted in by members.
The Olivier-winning star said actors with families would be "absentee parents" if the plan goes ahead.
Carvel, currently on Broadway reprising his role as Matilda's villainous headmistress Miss Trunchbull, voiced his opposition to the proposal on Twitter.
He urged members to reject it, saying that while one show was a "reasonable compromise", two would be too much.
"Five-show weekends will become the norm and ruin family life unless we reject the #WestEndSettlement," he wrote.
Matilda is among the few West End shows that currently run on Sundays. Some of those that do, including Thriller and Stomp, have both a matinee and an evening show.
Equity members have been balloted and have until 15 March to vote on the proposal.
If the proposal is approved, theatre producers may not necessarily go ahead with two shows unless there is a demand for it.
"We consulted with members currently and recently working in the West End over all the proposals currently being balloted on," said an Equity spokesman.
"At that time there was not widespread concern over two shows on a Sunday."
In its proposal document, Hilary Hadley, Equity's head of live performance, said any settlement agreed would last for just two years.
"This means that both sides will be able to monitor how it is working in practice," she said. "We will be able to claim again, on the basis of real experience, in 2014."
Negotiations on minimum rates of pay in the overall settlement for this year will give employees a 2.2% increase.
Equity are hoping to negotiate a further 2% increase from January 2014 onwards.