BBC defends Egghead Brain of Britain competitor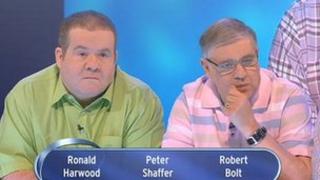 The BBC has defended Egghead star Barry Simmons' right to compete in the final of Radio 4's Brain of Britain quiz.
The Sunday Telegraph has reported five complaints were made to the corporation about Mr Simmons' successful appearance in the competition's semi-final.
He will compete in the final next week.
A BBC statement said: "There is no rule banning Eggheads from appearing on Brain of Britain - the only rule is that former champions are not allowed to return."
It added: "Brain of Britain is a very unpredictable quiz and it is quite possible a well-known quizzer like Barry could be beaten."
Professional quizzer Mr Simmons has also appeared on Who Wants to Be a Millionaire?, where he won £64,000 and was a semi-finalist on Mastermind.
In 2009, he also reached the final of Brain of Britain, but was defeated by Geoff Thomas.
Eggheads is a quiz show on BBC Two, co-hosted by Jeremy Vine and Dermot Murnaghan, in which a team of five challengers pits their wits against a a team of five 'Eggheads' - all highly regarded quiz and game show champions.
Brain of Britain is a nationwide general knowledge contest in which 48 listeners from all parts of the United Kingdom compete for the title.
The 2007 champion, Kevin Ashman, is also a regular on Eggheads.
The row has been picked up on Twitter where Marilyn Stowe has written, "What a nasty piece about one of the greatest Geeks in the country! If he wins Brain of Britain that's because he is!"
Mistress_Fiona said: "BBC in row over 'professional quizzer' on Brain of Britain - he is paid by BBC to appear on Eggheads!"
But addressing the row on Twitter, Mr Simmons wrote: "My appearances on Brain of Britain appear to have caused a minor stir. Let me remind everyone the program is called Brain of Britain!"