Eurovision: Humperdinck hopeful of Tyler triumph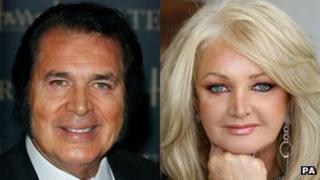 Former Eurovision contestant Engelbert Humperdinck has written an open letter to Bonnie Tyler, who will perform the British entry at this year's contest.
Humperdinck - who came second from last when he sang the UK entry in 2012 - congratulated Tyler on "being the one".
"The loss of winning had me stepping on a loose unforgiving stone on a pyramid to paradise," he wrote.
"But paradise will always be there for someone else to triumph in fair judgement to pride our country again."
The veteran crooner opened last year's contest, in Azerbaijan, with his ballad Love Will Set You Free.
But the 76-year-old failed to win over either the voting public or the juries, finishing in last but one place.
Humperdinck, who has sold more than 150 million records worldwide, received just 12 points - from Estonia, Latvia, Belgium and Ireland.
Yet his letter - which ends by telling Tyler "you can do it" - still hails the contest "a great step in my career".
Tyler will sing the UK entry, Believe in Me, in front of an estimated 120 million viewers in Malmo, Sweden on 18 May.
The 61-year-old had her first hit single, Lost in France, in 1976, but remains best known for Total Eclipse of the Heart and Holding Out For A Hero.
Earlier this week she told the BBC's World Service she was "delighted" to be part of the contest and would do her "very best for the country".