Star Wars: George Lucas hints at cast 'reunion'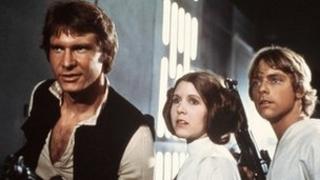 Hopes that Star Wars actors Harrison Ford, Carrie Fisher and Mark Hamill will reprise their roles on screen have been raised by the saga's creator.
Speaking to Bloomsberg Businessweek, George Lucas revealed that the trio had been "in final stages of negotiation" when his Lucasfilm company was sold to Disney last year.
That deal will pave the way for a new Star Wars film, directed by JJ Abrams.
But Lucas would not confirm whether the "negotiation" had been successful.
Lucas' remarks coincided with an interview with Fisher in which she said she would return to the role of Princess Leia in the new film, due out in 2015.
However, that was swiftly followed by a retraction from a representative, saying the 56-year-old actress had been "joking".
Both Hamill and Ford are said to be open to the possibility of returning as Luke Skywalker and Han Solo, according to Entertainment Weekly.
When Disney purchased Lucasfilm for $4.05bn (£2.7bn) last year, it said it planned to make a new trilogy of Star Wars films to follow on from the existing six movies.
'Big whoop-de-do'
Earlier this week, Disney chief executive Bob Iger told shareholders the company was also working on "some stand-alone movies featuring the great Star Wars characters".
The original Star Wars, released in 1977, tells of a young farm boy (Hamill) who joins forces with a space bandit (Ford) to liberate an imprisoned princess (Fisher).
All three actors returned to their roles in the two sequels, 1980's The Empire Strikes Back and 1983's Return of the Jedi.
But none of the trio appeared in the three Star Wars prequels - The Phantom Menace, Attack of the Clones and Revenge of the Sith - which were released in 1999, 2002 and 2005 respectively.
Given that the new films will be set in the years after the events seen in Return of the Jedi, however, the Skywalker, Solo and Leia characters could conceivably feature.
"We had already signed Mark and Carrie and Harrison - or we were pretty much in final stages of negotiation," Lucas, 68, is quoted as telling Bloomsberg's Devin Leonard.
"So I called them to say, 'Look, this is what's going on.' Maybe I'm not supposed to say that.
"I think [Disney] want to announce that with some big whoop-de-do, but we were negotiating with them."