Kenny Ball, jazz trumpeter, dies at 82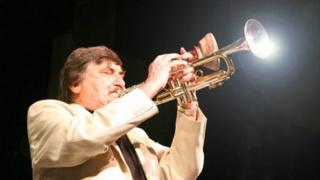 Jazz trumpeter Kenny Ball has died at the age of 82 after suffering from pneumonia, his manager has confirmed.
He was best known as the lead trumpet player in the band Kenny Ball and his Jazzmen in the late 1950s and 1960s and for his regular TV appearances with comic duo Morecambe and Wise.
Ball's manager, Les Squire, said that the musician passed away on the morning of 7 March.
"If he could have been on stage tomorrow, he would have been," he said.
Squire said Ball had been ill for a number of weeks and that he had been holding off on bookings until he was better.
His son Keith has been fronting his father's band at their recent performances and will do so again on Friday at a scheduled concert in Grantham, Lincolnshire that will also feature Acker Bilk, Chris Barber and their respective bands.
"I've done so many gigs with Kenny it's not true," clarinettist Acker Bilk told the BBC. "Every night with Kenny was different. He was a good lad, with a good sense of humour and a lot of fun to be with."
Born in Ilford in north-east London, Ball left school at 14 to be a clerk in an advertising agency and started taking trumpet lessons.
He turned professional in 1953, playing with the Sid Phillips and Eric Delaney bands, before forming his own group, Kenny Ball and his Jazzmen, in 1958.
The band had their first hit record, (I Love You) Samantha, in 1961. Other successes included Midnight in Moscow, March of the Siamese Children and I Want To Be Like You.
He supported his idol Louis Armstrong in 1968 during his last European tour and played at the wedding reception for the Prince and Princess of Wales in 1981.
'Mop-haired'
Singer and broadcaster Claire Teal, who interviewed Ball for her BBC Radio 2 show last year, remembered him as "a great character and a credit to British jazz".
"It's really important we remember his contribution to music," she told the BBC News website, describing Ball as "a pioneer".
"I'd known of Midnight in Moscow ever since I can remember. Every household in the 1970s played that record - even if they weren't jazz fans. And they all remember Kenny's version."
Alyn Shipton, presenter of BBC Radio 3's Jazz Record Requests said Britain had lost "one its most charismatic bandleaders, and a figurehead of the 'trad' movement".
"With his ready grin, mop-haired appearance and upbeat singing and playing, Kenny Ball was one of the most extrovert and cheery figures in British entertainment," he said.
"His chart-topping hits of the 1960s brought jazz to a huge audience, and he was a dazzlingly accomplished trumpeter, with one of the most developed techniques in jazz."