Kenny Ball: The swinging jazz star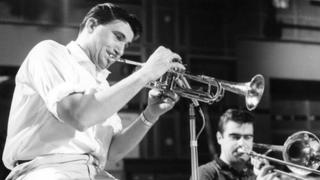 Trumpet player and singer Kenny Ball, who has died at the age of 82, was one of the best-known and best-loved names in British jazz for 50 years.
With his uplifting, swinging style, Kenny Ball and his band The Jazzmen were at the forefront of the early 1960s UK trad jazz revival and enjoyed chart success on both sides of the Atlantic.
Born in Ilford, Essex, Ball was the youngest of seven children and started playing the bugle as a sea cadet.
His musical career began as a semi-professional sideman in bands led by Charlie Galbraith, Sid Phillips, Eric Delaney and Terry Lightfoot before he formed his own group in 1958.
Their big break came in 1960 when, while auditioning for a TV show, they were spotted by skiffle legend Lonnie Donegan. He offered them a recording contract on the spot.
By the following year, they were in the charts with the tracks Samantha, I Still Love You All and Someday (You'll Be Sorry).
But their biggest success, and their most enduring hit, was Midnight In Moscow, which reached number two in both the UK and the US and sold more than a million copies around the world.
While their accessible sound was not to the taste of some trad jazz purists, they were now pop stars as well as jazzmen, and more top 10 hits followed with March of the Siamese Children and The Green Leaves of Summer.
From 1968 to '72, they found fame on TV as the resident band on the Morecambe and Wise show.
It was "probably better than having a number one", Ball later recalled. "Every week you're playing to 27 million people and Ernie's taking the rise out of you, Eric's taking the rise out of you."
They were also regulars on another prime time TV show, Saturday Night at the Mill, at the end of the '70s and into the '80s.
The most prestigious concert of their careers came in 1981, when they were invited to perform at the wedding reception of Prince Charles and Princess Diana.
"All I could see over my trumpet ball was bobbing tiaras," Ball later joked.
In 1984, Ball and his band went on a tour of the USSR and became the first western jazz group to play at the Kremlin, performing Midnight In Moscow for an audience including Russian President Mikhail Gorbachev.
Ball was also fond of telling a story about how Gorbachev and US President Ronald Regan were both fans of the track and once sang it together during a break from negotiations at a summit.
The musician also fondly recalled forming a friendship and playing eight concerts with Louis Armstrong and being awarded an honorary citizenship by the city of New Orleans.
His band remained a fixture on the live circuit and, more recently, Ball had been touring with fellow trad jazz legends Chris Barber and Acker Bilk.
Asked in 2011 for the secret of his staying power, he replied with just one word: "Enthusiasm."