Singer Anastacia cancels tour as breast cancer returns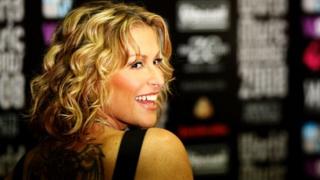 Singer Anastacia has been forced to cancel her European tour after being diagnosed with breast cancer for the second time.
The 44-year-old made a full recovery in 2003 after being treated with surgery and radiotherapy.
"I feel so awful to be letting down all my amazing fans. It just breaks my heart to disappoint them," she said in a statement on her Facebook page.
All tickets for the tour, due to start on 6 April in London, will be refunded.
The singer, famous for her hit single, I'm Outta Love, last performed live in Germany in December 2012.
She was due to play 13 dates this April across Europe to promote her latest album It's A Man's World.
Anastacia says she will continue the writing and recording a new album despite her diagnosis and hopes to schedule a new tour as soon as possible.
She was last seen on British TV when she joined Gary Barlow, Louis Walsh and Tulisa on the X Factor judging panel last year.
When she was first diagnosed with the disease, she said her ordeal had taught her the importance of early detection in fighting breast cancer and she urged other women to have mammograms.
In a statement, she said "I'm a fighter by nature and nothing will ever change that."