Steven Spielberg to head up Cannes Film Festival jury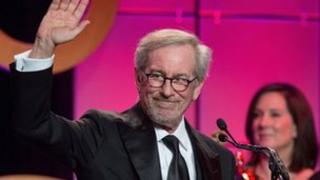 Oscar-winning director Steven Spielberg is to lead this year's Cannes Film Festival jury, it has been announced.
The jury awards the coveted Palme d'Or - or best film - at the festival which runs from 15-26 May.
Spielberg, who has presented several films at Cannes, called his selection an "honour and a privilege".
"My admiration for the steadfast mission of the Festival to champion the international language of movies is second to none," he added.
"For over six decades, Cannes has served as a platform for extraordinary films to be discovered and introduced to the world for the first time."
In his 40-year career, Spielberg has made 27 films. His most recent, Lincoln, received 12 nominations at this year's Oscars, winning two awards including best actor for Daniel Day-Lewis in the title role.
Cannes organisers said Spielberg's work cut across a broad spectrum "between entertainment films and serious reflections on history, racism and the human condition".
Thierry Fremaux, of the festival's organising committee, said: "Because of his films, and the many causes he holds dear, he is year-in year-out the equal of the very greatest Hollywood filmmakers. We are very proud to count him among us."
The first film Spielberg made for cinema, Sugarland Express, was selected for the Festival de Cannes in 1974, where it won best screenplay.
E.T. (1982) was presented as the festival's closing film and was the very last festival screening shown in the former Palais Croisette theatre.
The winner of last year's Palme d'Or was Michael Haneke's drama Amour, which won best foreign language film at the Oscars.