Robbie Williams says 'dull' Brits inspired new song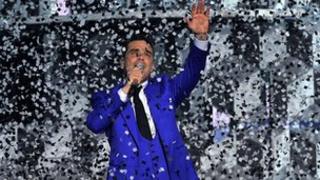 Robbie Williams has revealed performing to a "dead hall" at a "dull" Brit Awards inspired a new track in which he launches an attack on the ceremony.
"I'm not saying that I was amazing at the Brits either," the Take That singer can be heard telling Radio 4's Front Row later.
Williams, who premiered the free track on his website, has won 17 Brit awards - more than any other artist.
"I got on stage and turned around and looked at a dead hall," he said.
"It's not their fault, but maybe they should have some punters in."
Williams performed his Brit-nominated song Candy at the 20 February event at London's O2 Arena.
The 39-year-old missed out on a nomination for best British male, despite topping the UK album chart with his latest disc Take the Crown.
'A bit dull'
His Brits performance saw him dressed in a blue suit and joined by backing dancers dressed in black and white and holding tubas.
He returned to the stage later in the evening to present a "global success" award to boy band One Direction.
Williams described his own performance as "a bit dull", attributing it to the stage being surrounded by industry guests sitting at tables rather than ordinary fans.
"The performance wasn't amazing," he told Front Row's John Wilson. "I didn't have anybody to vibe off in the audience.
"I'm not saying that's their fault. I'm a professional and should take care of that myself."
Williams' free track, called The Brits 2013, was co-written with songwriter Guy Chambers, co-writer and producer of some of his biggest hits.
It boasts of drug-taking, fighting and sexual escapades and bemoans the Brits as "dull, professional and timid".
In one lyric, he describes himself as a "showbiz chancer".
"Unless you're Paul McCartney, there wasn't anybody at the awards ceremony who's not a chancer," he told Front Row.
"You have to be a bit delusional to think you can do this job and then luck will get you there.
"How you play your hand is up to you, but the majority of people who are in this business are all chancers".
Yet Williams insisted the new song comes from the perspective of one of his many characters.
"It's another vignette, another character," he said. "I am heavily influenced, and always have been since I was a kid, by hip-hop.
"Hip-hop was influenced by Jamaican boasting and I slip into character for this song. It's not who I really am."
The full interview with Robbie Williams can be heard on Front Row from 1915 GMT.