Underworld star returns to write for Danny Boyle film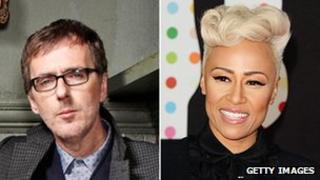 Rick Smith, one half of British dance act Underworld, will be heard on the score of Danny Boyle's new film Trance alongside double Brit-winning singer Emeli Sande.
Smith previously worked with Underworld partner Karl Hyde on the music for Boyle's London 2012 opening ceremony.
Smith's score will feature a new track, called Here It Comes, that Sande has co-written and appears on.
Trance, Boyle's first film since 127 Hours, is out in the UK on 27 March.
It stars James McAvoy as an art auctioneer who becomes involved in a heist.
"Working with Danny is a joy, because he's both a great collaborator and a giver of artistic freedom" said Smith.
"He wants his film music loud and with presence, almost like another character."
Smith has written and recorded 11 original pieces which appear in the film alongside music by Moby, Unkle and M People.
The collaboration came about after Boyle sent Smith a text message after the Olympic opening ceremony last July.
"Exactly one month and three days after we said goodbye in the stadium, I received a text from Danny," Smith said. "Two minutes later I was on board."
Smith first worked with Boyle on the soundtrack for the Oscar-winning director's earlier film Trainspotting.
Boyle said his latest effort "reaches back to the darker, more anarchic spirit" of that 1997 cult hit.
Sande, who performed at both the London 2012 opening and closing ceremonies, won two Brits earlier this month, for best British female and best British album.
Smith said it was "a real joy" to work with the 25-year-old. "Her passionate, soulful voice and wonderful lyrics are a perfect ingredient of the score," he went on.
Meanwhile, Justin Timberlake has revealed he has joined forces with Marcus Mumford, from Grammy-winning folk band Mumford & Sons, to work on the soundtrack for an upcoming Coen brothers film.
The US singer and actor said they had worked with producer T-Bone Burnett on the soundtrack for Inside Llewyn Davis - a film in which Justin appears with Carey Mulligan, Marcus Mumford's actress wife.
"I don't know any other world where we would get the opportunity to collaborate like that," Timberlake told Capital FM.
The film, which also stars John Goodman and Garrett Hedlund, follows a singer-songwriter exploring the folk music scene in 1960s New York.