The Review Show moves to BBC Four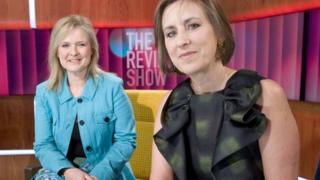 BBC Two's weekly arts round-up The Review Show is to move to a monthly hour-long programme on BBC Four.
It will swap its 23:00 slot for a prime time position and keep its presenters Martha Kearney and Kirsty Wark.
One of the BBC's flagship arts programmes, The Review Show has been on air in different formats for almost 20 years.
The move has already prompted criticism from some industry figures.
"Who's going to start a petition to save the BBC's Review Show? I want to sign it!" tweeted Channel 4 News culture editor Matthew Cain.
TV reviewer Boyd Hilton responded to the news in his tweet: "A MONTHLY Review Show?! Yes in the internet age what we really need is to reduce the frequency of a topical show."
The move has been defended by BBC Four controller Richard Klein, who said: "The range of topics will be, I think, broader, but also we'll do what the Review Show does on BBC Two but in a number of different ways hopefully to expand audiences."
The programme features regular guests including novelist Ian Rankin, author Lionel Shriver and journalist Paul Morley, who pick over the week's cultural highlights.
The BBC's arts commissioning editor Mark Bell said: "We feel that there are other ways of reflecting the arts topically beyond getting people to sit around a table and discuss it."
Arts coverage across the BBC is being cut as a result of the £700m cost-cutting measures Delivering Quality First (DQF).
Bell added: "On the whole I feel relieved. DQF is hitting all of us and arts has come out pretty well."
BBC Four is refocusing on arts and culture as part of wide-ranging money-saving measures that will see the channel reduce original drama programming.
The changes were part of a number of new arts programmes announced for BBC Four on Tuesday.
Among the other planned programmes is a series on the working lives of leading artists including painter Jack Vettriano, print-maker Norman Ackroyd and sculptor Cornelia Parker.
There will also be a celebration of the National Theatre on its 50th anniversary.