Daniel Day-Lewis makes Oscar history with third award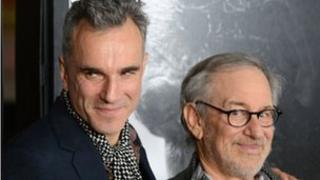 Daniel Day-Lewis, has made history by becoming the only person to win an Oscar in the best actor category on three occasions.
His previous Oscar victories were for his work in My Left Foot and There Will Be Blood - and he has two further nominations to his name, for Gangs Of New York and In The Name Of The Father.
"I need to have a lie down now for a couple of years!" he joked backstage after he accepting his latest award.
Born in London in 1957, the son of the Anglo-Irish poet Cecil Day-Lewis and actress Jill Balcon, Day-Lewis studied at the Bristol Old Vic Theatre school.
A method actor, he is known for his attention to detail and devotion to the roles he plays.
His film debut came at the age of 14, an uncredited part in John Schlesinger's Sunday Bloody Sunday, in which he played a vandal. During his early 20s, the young actor worked in both stage and screen, including How Many Miles to Babylon and a small part in the Academy award winning film, Gandhi in 1982.
A year later, Day-Lewis joined the Royal Shakespeare Company, with starring roles as Romeo in Romeo and Juliet and Flute in A Midsummer Night's Dream.
A role in the 1985 British comedy drama, My Beautiful Laundrette about the relationships between members of Asian and White communities, was followed by a part alongside Juliette Binoche in The Unbearable Lightness of Being in 1987.
But it was his award-winning performance as Christy Brown in Jim Sheridan's acclaimed 1989 film My Left Foot, in which he showed his skills as a method actor and won him his first best actor Oscar. Day-Lewis prepared for the role as a paralysed man by visiting and forming friendships with disabled people at Dublin's Sandymount School Clinic. He also refused to break character during filming.
He took the same approach to his preparation for the portrayal of Gerry Conlon in In the Name of the Father, Sheridan's film about the wrongly convicted Guildford Four. Off screen, Day-Lewis kept his northern Irish accent as well as losing weight for the part and spending time in a jail cell. The role earned him several award nominations including a second Oscar nod.
After roles in Martin Scorsese's The Age of Innocence and a film version of Arthur Miller's The Crucible, Day-Lewis returned to work with Sheridan in The Boxer, a film about a former boxer and IRA member released from prison. To prepare for the part, the actor trained with former boxing world champion Barry McGuigan.
After a five-year break from acting, Day-Lewis took the part of the gang leader Bill the Butcher in Scorsese's 2002 historical drama Gangs of New York, which earned him his third Academy Award nomination and the Bafta for best actor.
His powerful performance in Paul Thomas Anderson's critically acclaimed There Will Be Blood (2007) won him his second Oscar award for best actor along with a host of other awards including a Bafta and Golden Globe.
Rejection letter
Lincoln marked his first collaboration with Steven Spielberg. The role was not always his - Liam Neeson was originally in place to play the American president. Even when he dropped out, Day-Lewis turned down the role.
When Day-Lewis eventually picked up best actor at the New York Film Critics Circle, Spielberg read out his star's original rejection letter.
"Dear Steven," he wrote. "It was a real pleasure just to sit and talk with you. I listened very carefully to what you had to say about this compelling history, and I've since read the script and found it in all the detail in which it describes these monumental events and in the compassionate portraits of all the principal characters, both powerful and moving.
"I can't account for how at any given moment I feel the need to explore one life as opposed to another, but I do know that I can only do this work if I feel almost as if there is no choice; that a subject coincides inexplicably with a very personal need and a very specific moment in time.
"In this case, as fascinated as I was by Abe, it was the fascination of a grateful spectator who longed to see a story told, rather than that of a participant.
"That's how I feel now in spite of myself, and though I can't be sure that this won't change, I couldn't dream of encouraging you to keep it open on a mere possibility. "
Eventually, he did change his mind - and made the role his own, painstakingly researching the gait and accent of the much-mythologised American President. He grew his own beard - "it was a little scratchy now and then" - and, reportedly, stayed in character during filming.
Partly, this was because he was aware of the scrutiny his performance would be under. "It had a paralysing quality that if we got it wrong, I might never show my face in this country again," he told reporters at the Oscars.
But the star is neither as serious nor as intense as his reputation suggests.
Winning the Bafta earlier this year, Day-Lewis mocked his reputation, joking that he had stayed "in character as myself for the past 55 years", just in case he had to accept such an award.
And, as he accepted his historic Oscar trophy from Meryl Streep, he said: "Three years ago, before we decided to do a straight swap, I had been committed to play Margaret Thatcher...
"Meryl was Steven's first choice for Lincoln. I'd like to see that version."